Pamela Husky
Water Works
East Gallery - December 10, 2012 - February 10, 2013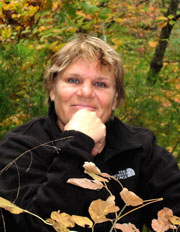 Pamela Husky creates fiber art from her home studio on Lake Eufaula. "My view is of the shoreline, beautiful in every hour and season," Husky says. Many of the works included in this exhibit, titled Water Works, convey those images - the surface of rocks, bark of the trees, depth of sky, and reflections or waves on water.
Husky first learned the foundation of fiber art when she was four and her grandmother taught her to sew and to cut accordion-dolls from paper. "I still love working with fiber," she says.
People began felting, spinning, and weaving thousands of years ago, and fiber is an intimate part of our lives today. Old fabric from clothing or a blanket or rug can evoke memories of a place or time as easily as a song. Fiber is a baby's blanket, a wedding gown, military uniform, or flag. Husky explains, "In my work, the cut pieces of those fabrics have new life as elements of color or texture in a landscape."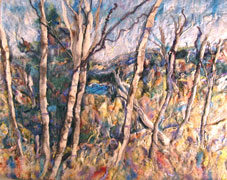 Feltmaking is an ancient process in which heat and pressure cause wool fibers to tightly interlock. Husky overlaps thin handfuls of wool to form a blanket eight layers thick. She dyes wool, mohair, silk, ramie, and handspun yarns. These fabrics are trapped in the top layers to create the design. Carding, a process that disentangles, cleans, and intermixes fibers together blends the colors. Resist fabric is inserted between layers to build a three-dimensional surface.
The many layers create a blanket that is about 10-inches high, which is then pinned between slick sheets of fabric. Steaming buckets of soapy water are poured over the blanket and the piece is compressed and rolled repeatedly to allow the wool fibers to interlock. This heavy work takes about six hours before the felt is stretched and dried. Each complete work of fiber art requires six weeks to complete before framing.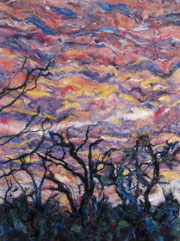 Feltmaking is immediate and painterly while weaving requires detailed planning and execution using a scaled drawing. Weavings take much longer to design, dye, spin, and weave.
For her tapestries, Husky uses an eight-harness, 60-inch wide loom. Two or three tapestries can be completed in one year. The rag-strip tapestry and double-weave rug in this exhibit were woven from the army uniforms of Husky's father, Retired Col. Robert M. Saunier.
Husky is a fifth-generation Oklahoman and has worked as a fiber artist for 37 years. Her work in tapestry and feltmaking has received state and national awards in exhibits such as Oklahoma Vision Makers and Fiberworks, National Intermountain Weaver's Conference, Kansas Fiber Directions Five-State, and BASF National Fiber Exhibit. Her fiber art is included in numerous collections both locally and nationally including the Oklahoma State Art Collection, Rail Signal Corporation in Kansas City, Missouri, Crawley Trust in Keystone, Colorado, Overstreet Photography Studio in San Antonio, and Red Rock Community Mental Health Center in Oklahoma City, to name only a few.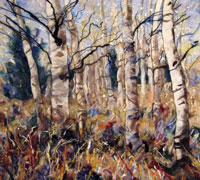 Husky earned a Master of Liberal Studies, with an emphasis in art education and art history, from the University of Oklahoma. Her teaching career spanned over 20 years as the Assistant Chair of the Art and Design Department and Director of the Three-Dimensional Design Program at the University of Central Oklahoma. She was also an Artist-in-Residence for the Oklahoma Arts Council, teaching workshops in tapestry weaving, basketry, hand-spinning, organic and resist dyeing, stitchery, beading, book arts, papermaking, and feltmaking. Husky retired from teaching in 2002 to dedicate her time to creating fiber art and enjoying life on Lake Eufaula.