Desmond Mason
Generation Next: Chapter 1
East Gallery - April 30 - July 1, 2012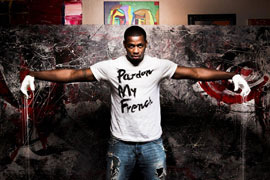 After a successful 10-year career as a professional basketball player in the NBA, Desmond Mason is now focused on his passion for creating art. The foundation for Mason's career in the arts was laid when he attended Oklahoma State University on a basketball scholarship. He majored in studio art where he was able to expand his knowledge of art history and further develop his technical skills in painting and drawing. By his senior year, Mason began to earn national attention not only for his talent in basketball, but also for his artistic ability. After leaving basketball behind in 2009, Mason settled in Oklahoma City and now creates artwork from his studio in the Midtown area.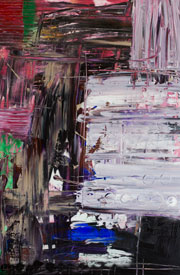 For this exhibit, titled Generation Next: Chapter 1, Mason let his emotions lead the way. "The process for making this artwork was more mental than physical," says the artist. "I thought about all the times I was doubted and told I couldn't do things or accomplish things. I really let my emotions drive me to the place of creating. I wanted to put painting aside and mentally open up to my work." Mason's artist statement says, "Art is your past, present, and future. It's your good times and bad times. It's your love and pain. It's who you are, but on canvas."
Mason sees his career in art as an opportunity for philanthropy. In 2004, he founded the Desmond Mason Art Show in which his artwork is sold and the proceeds are donated to numerous local charities. He has sold over 160 works of art to collectors all over the world.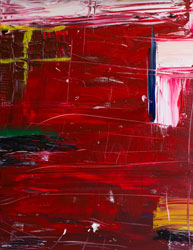 He also uses his artistic talents to inspire and work with children in need, and he continually strives to help his community in numerous ways.
Mason says that what most inspires his art is his wife, Andrea and their two children, Jada and Elijah.
Basketball
Born in Waxahachie, Texas, Mason excelled in basketball in high school and went on to play at Oklahoma State University under the coaching of Eddie Sutton. He appeared in three NCAA tournaments while advancing to the Elite 8 and collecting All-Conference and National Honors during his senior season.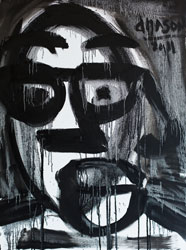 In 2000, he was drafted by the Seattle Supersonics with the 17th pick of the NBA draft's first round. In 2001, he became the first Seattle player in franchise history to win the NBA Slam Dunk Contest. During the ten years Mason played in the NBA, he played for Seattle, the Milwaukee Bucks, New Orleans Hornets, Oklahoma City Thunder, and Sacramento Kings.