Showers of Sunshine
by Linda Tuma Robertson
Oil
Commissioned by the Oklahoma State Senate Historical Preservation Fund, Inc.
Dimensions: 60 x 84
Dedicated May 23, 2006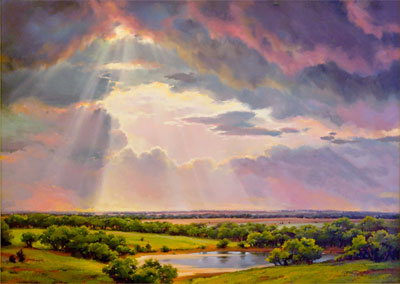 The Artwork
Showers of Sunshine depicts a scene from the H.E. Bailey turnpike in Grady County that was authorized by the State Legislature in 1953. The original 86.4 miles opened in 1964, and the 8.2 mile extension connecting State Highway 9 to Norman was opened in 2001.
The Artist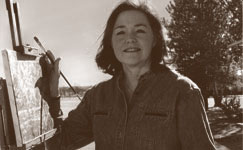 Edmond, Oklahoma artist Linda Tuma Robertson has captured the beauty of the world outside our windows and delicately placed it upon her canvas. She employs impressionistic techniques to capture the transient effects of shifting light while incorporating realistic detailing to truthfully portray the essence of the landscape. Robertson derives inspiration from the erratic environment around her.

"It can be a clear day and a few clouds will move in and the entire character of the scene will change from a mundane look into a romantic and intriguing vision. I am always excited to see what the day has given me to paint," said Robertson.

Robertson became an accomplished artist at a very young age, winning her first blue ribbon for her work in kindergarten. At age nine, the young artist studied with the prominent Oklahoma oil painter John Shelby Metcalf. Her parents nourished her artistic creativity and opened her eyes to the marvelous exquisiteness around her through trips to Wyoming and across Oklahoma.

By the age of twenty, Robertson's work had been displayed at the Kerr Museum, the Oklahoma Museum of Art, the Oklahoma Art Center, and the Kennedy Center in Washington, D.C. Several institutions have commissioned her work for private and public collections including Cornell University in New York, the Kerr Foundation, and Gaillardia Country Club. She has participated in exhibits throughout the United States and has won numerous best of show awards. In 1983, internationally known Oklahoman artist Wilson Hurley selected one of her paintings to be displayed in the Art Annual IV, a true testament to her astonishing talent.