Miss Alice Robertson
by Mike Wimmer
Oil
Commissioned by the Oklahoma State Senate Historical Preservation Fund, Inc.
Dimensions: 38 x 32
Dedicated April 14, 2004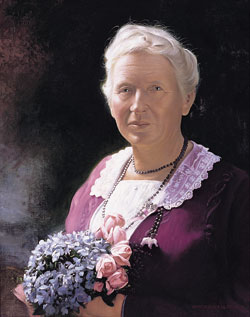 The Artwork
In 1920, Alice Mary Robertson became the second woman elected to the U.S. House of Representatives when she defeated the three-term incumbent William W. Hastings, in Oklahoma's Second Congressional District. At the age of 67, Robertson already had a diverse career behind her.

She was born January 2, 1854, at the Tullahassee Mission of the Creek Nation in Indian Territory. Taught by her missionary parents, she went on to attend Elmira College in New York. From 1873 to 1879, she worked as the first woman clerk in the Office of Indian Affairs in Washington and also taught at the Indian school in Carlisle, Pennsylvania. She later founded Minerva Home, a school for Creek girls, which later became Henry Kendall College (now the University of Tulsa).

Miss Alice's helpfulness to troops passing through Muskogee station came to the attention of Col. Theodore Roosevelt and after he became President, named Miss Alice to serve as the first woman Postmaster in a first class post office in Muskogee. Later she operated a dairy farm which provided milk and butter and other produce which was used by the cafeteria she operated in Muskogee.

As a candidate for Congress in the first election following ratification of the Nineteenth Amendment, Robertson disassociated herself from suffragists and other women's rights advocates. Robertson's opposition to what she saw as a bureaucratic intrusion on personal rights provoked condemnation from women's political groups and such organizations as the Daughters of the American Revolution. And despite her support of servicemen in the First World War, she voted against the Soldiers' Bonus Bill.

On June 20, 1921, during a roll-call vote on funding for a United States delegation to the centennial celebrations of Peru's independence, Robertson became the first woman to preside over a session of the House of Representatives.

Her first term in Congress, however, was also to be the last for the outspoken Robertson. In a rematch with William W. Hastings in 1922, Robertson lost her seat. Failing to receive an appointment in Indian Affairs in the Harding administration, Robertson returned to Oklahoma where she worked in the Veterans' Hospital in Muskogee, and for the Oklahoma Historical Society. She resided in Muskogee, Oklahoma, until her death in 1931.
The Artist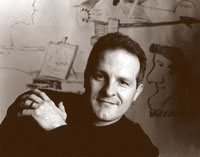 Born and raised in Muskogee, Oklahoma, Mike Wimmer began his career as an artist during the seventh grade. He earned his Bachelor of Fine Arts from the University of Oklahoma, where he met Don Ivan Punchatz. Wimmer later moved to Arlington, Texas, to be Punchatz's apprentice at the famous Sketch Pad Studio. Wimmer learned valuable knowledge regarding the business aspect of illustrating as well as various painting techniques and the working methods of the local Dallas illustrators. After his two and a half year apprenticeship, he moved back to Norman, Oklahoma, and set up his own studio using all that he had learned in Texas.

Since then, Wimmer has become very successful illustrating children's books such as Flight: The Journey of Charles Lindbergh by Robert Burliegh which was the winner of the Orbis Pictus Award for Outstanding Nonfiction for Children in 1990. He also illustrated All the Places to Love by Patricia MacLachlan which was published in 1994 and won the Oklahoma Book Award for Best Illustrated Children's Book 1995. Wimmer's book, Will Rogers by Former Governor Frank Keating, was published in 2002 and won the 2003 Spur Award from the Western Writers Association of America. Even though Wimmer has worked for some of the largest corporations in the world including Disney and Procter and Gamble, Wimmer finds the greatest artistic pleasure within his creation of fine art.