The Earth and I Are One
by Enoch Kelly Haney
Acrylic
Commissioned by Kerr-McGee in cooperation with the office of Attorney General Robert Henry and the Oklahoma Arts Council
Dimensions: 48 x 36
Dedicated 1990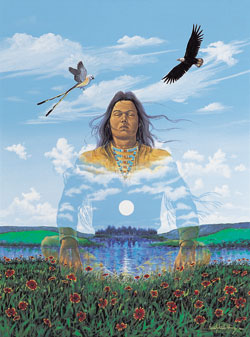 The Artwork
The Earth and I Are One is a mystical painting of a meditating Native American sitting amongst Oklahoma's state wildflower, the Indian blanket. The Native American's translucent physical being merges with the wonders of nature that surround him. The state bird of Oklahoma, a scissortail flycatcher, and America's national fowl, the bald eagle, hover above the native peacemaker as if guarding him. The Oklahoma natural splendor envelops the figure creating an atmosphere of calming peace.

The symbolism within this piece is a true testament to the artist's love for his native state. The crystal blue lake and the velvety green grass are common occurrences throughout Oklahoma. The overall feel of the painting is that of Oklahomans' deep respect and admiration for the natural beauty that surrounds us. Accordingly, The Earth and I Are One was dedicated on Earth Day, 1990.
The Artist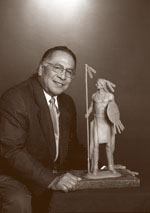 Truly a modern-day renaissance man, Enoch Kelly Haney's talents span two separate spheres - namely politics and art. Born on November 12, 1940 to William Woodrow and Hattie Louise Haney, Enoch grew up in Seminole, Oklahoma. The son of a full-blood Seminole and Creek Indian, Haney's own grandfather was chief of the Seminole Tribe in the 1940s.

Haney's interest in Indian people is evident in his art, as he puts a great amount of energy into the research and documentation of Native American culture and traditions. His work is exacting in its detail and representation of native peoples. Haney received his Associate of Arts degree from Bacone College, and his Bachelor of Arts in Fine Arts from Oklahoma City University.

In 1962, Haney was honored with the Rockefeller Foundation Scholarship at the University of Arizona. Haney was designated as the Master Artist of the Five Civilized Tribes in 1975; he also was awarded a Governor's Art Award, Distinguished Alumni Award, and the Indian Heritage Award. Along with his work as an artist, Haney has served terms in the Oklahoma House of Representatives, as well as the Senate.

Haney's colossal statue The Guardian stands prominently atop the Oklahoma State Capitol dome where it was lifted on June 7, 2002.