Ada Lois Sipuel Fisher
by Mitsuno Ishii Reedy
Oil
Commissioned by the Oklahoma State Capitol Preservation Commission
Dimensions: 44 x 32
Dedicated June 19, 2007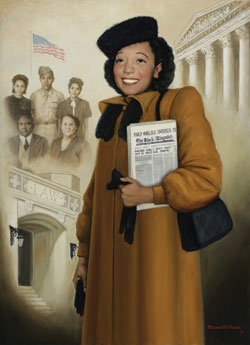 The Artwork
Ada Lois Sipuel Fisher was born in Chickasha in 1924 where she attended the segregated school of her time, Lincoln School. She married Warren Fisher in 1944 and had two children, Bruce and Charlene. After graduating from the segregated Langston University with top honors in 1945, Fisher volunteered to be the successful test case for admission to the University of Oklahoma School of Law represented by NAACP attorney Thurgood Marshall and Oklahoma attorney Amos T. Hall.

When denied admission on the basis of race, Fisher filed a suit asserting that she must be admitted to the University of Oklahoma School of Law since there was no comparable facility for Black students. Losing in state courts, Marshall argued the case before the Supreme Court which reversed the lower courts in 1948. The state quickly created a makeshift law school in the State Capitol with three part time instructors and one potential student. Fisher refused to attend. Further litigation was initiated to prove the two law schools were not equal.

In June of 1949, the University of Oklahoma School of Law changed its admission policy and finally permitted Fisher to enroll. After graduating in 1951 and passing the State Bar the same year, she practiced law in Chickasha. In the 50s, she became a professor at Langston University where she taught for 32 years. She earned a master's degree in history at OU in 1968.

Following her retirement from Langston University, she worked as Corporate Counsel for Automation Research System Limited in Alexandria, Virginia, the second largest Black-owned computer corporation in the country at that time.

In 1981, the Smithsonian Institution designated her as one of the 150 outstanding Black women who have had the most impact on the course of American history. In 1991, OU honored her with an Honorary Doctorate, and in 1992, more than 45 years after she was denied admission to the law school, Governor David Walters appointed Fisher to the University of Oklahoma Board of Regents. She died in 1995.
The Artist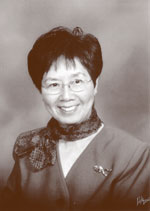 A native of Osaka, Japan, Mitsuno Ishii Reedy began her career in the mid-1970s painting portraits, still lifes, and landscapes for collectors throughout the United States. She has studied with notable pastel artists Albert Handell and Daniel Greene, and oil painters John Howard Sanden and David Leffel. She was elected a full member of Pastel Society of America in 1978, an associate member of the Pastel Society of Japan (Gendai Pastel Kyokai) in 2001, has been listed in Who's Who in the South and Southwest and Who's Who in American Art. She is represented by the Howell Gallery in Oklahoma City.