Game Birds at Glass Mountain
by Harold T. Holden
Oil
Commissioned by the Oklahoma State Senate Historical Preservation Fund, Inc.through the support of Patty and Joe Cappy, 2003
Dimensions: 60 x 96
Dedicated February 19, 2003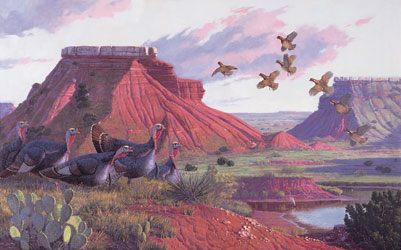 The Artwork
The Glass Mountains (sometimes called Gloss Mountains) are located 6 miles west of Orienta, Oklahoma. The mountains have a high selenite content, making them appear as if they were covered with pieces of glass. This beautiful scenic area, currently defined as a conservation area, boasts rugged high-topped mesas springing up from a relatively flat land area.

Game birds indigenous to northwest Oklahoma, such as wild turkeys, quail, and pheasant abound in the area. The land run of 1889 brought increasing levels of subsistence hunting and land use changes that made the wild turkey so rare that by 1925, most people thought they were extinct. In the late 1940s, the Oklahoma Department of Wildlife Conservation embarked on a stocking program to reestablish the wild turkey to its former range. This program was so successful that today we have huntable populations in every county.

Game Birds at Glass Mountain by Harold T. Holden was dedicated on February 19, 2003. The commission was managed by the Oklahoma State Senate Historical Preservation Fund, Inc.
The Artist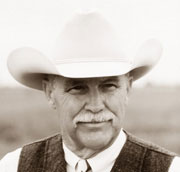 Affectionately referred to simply as "H", Harold Holden was born in Enid, Oklahoma, to a family of avid inventors and engineers. Holden earned his degree from the Texas Academy of Art in Houston after first attending Oklahoma State University. He began his career in the commercial art field as the art director of Horseman Magazine. While holding the position, Holden began to dabble in painting and sculpture, most often documenting the American West. After serving in Vietnam with the Navy, Holden decided to stake out a career as a full time artist in 1973. He received numerous commissions from the National Cattlemen's Association in the mid 1980s, and soon regard for his work grew to the point that private art collectors began to take stock of Holden's art. In 1987, Holden was chosen to sculpt the first of his many monuments that are currently scattered around the state of Oklahoma. His work has since graced numerous publications, and has even been featured as a U.S. postal stamp, 92,000,000 of which were released in 1993. Holden's work is included in various collections throughout the country, including the Oklahoma Arts Council collection. He has received the Lifetime Achievement Award from the Oklahoma Sculpture Society, as well as the Oklahoma Governor's Art Award.