Elk Herd in the Wichita Mountains
by Barbara Vaupel
Oil
Commissioned by Oklahoma State Senate Historical Preservation Fund, Inc.
Dimensions: 60 x 96
Dedicated March 5, 2003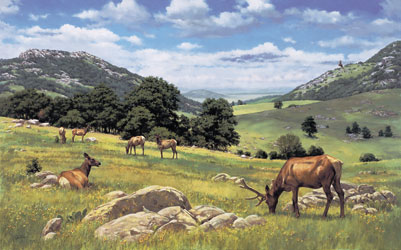 The Artwork
Elk Herd in the Wichita Mountains depicts Elk grazing peacefully on a stretch of grassland bordered by the rising granite mountains of Southwest Oklahoma.

Elk was indigenous to the Wichita Mountains area of Oklahoma but were exterminated by the late 1800s. When the land was set aside that later became known as the Wichita Mountain Wildlife Refuge, no native elk remained.

In 1908, one bull elk of unknown origin was donated to the Refuge by the city of Wichita, Kansas. In 1911 and 1912, additional elk were received from the National Elk Refuge herd.

Due to the success of these introductions, no further animals were brought into the herd and the elk now inhabiting the refuge and surrounding lands are descended from these original animals.
The Artist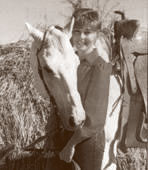 Born in San Diego, California, Barbara Vaupel taught herself to draw. She took a night school class in California with Floyd Chandler, who emphasized color and atmospheric progression. For a while, she did advertisements and later proofread ads. But Vaupel wanted to paint horses - particularly quarter horses. "I never lived the life of raising and showing horses," she says. "But the next best thing to living the life is painting it!" Leaving friends and family behind, in 1967 she headed for Oklahoma. Her earliest horse portraits and rodeo scenes were done by commission. Among them was a portrait of retail wizard Sam Walton with his hunting dogs and pheasant. Recently, the landscapes dominate the horses on her canvases. "I guess that is because of my love of this Oklahoma countryside."

Along with gallery representation, Vaupel has shown in the Women Artist and the West exhibit, Tucson, AZ, and with the Texas Cowboy Artists. She is also included in An Encyclopedia of Women Artists of the American West, as well as named 1999 Outstanding Art Book, 38th Annual Western Heritage Awards. Vaupel, a Henryetta resident, passed away on December 27, 2006.