Will Rogers
by Charles Banks Wilson
Oil
Commissioned by Oklahoma State Legislature
Dimensions: 80 x 50
Commissioned 1963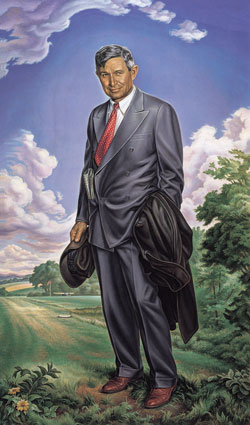 The Artwork
At the time of his death in 1935, Will Rogers was America's most widely read newspaper columnist and his Sunday night half-hour radio show was the nation's most-listened-to weekly broadcast. He wrote 4,000 syndicated columns and six books, becoming a prominent radio broadcaster and political commentator. In 1934, he was voted the most popular male actor in Hollywood and starred in 71 films and several Broadway productions. It was his unique sense of folksy humor and his honest, intelligent observations about the government and America that earned the respect of the nation.

Commissioned by the Oklahoma State Legislature in 1963, Charles Banks Wilson completed this life-size portrait of Rogers for the state capitol rotunda in 1964. To capture the 'easy dignity' of Oklahoman's favorite son, Wilson studied all available published sources even though the artist painted the famed humorist a year before his untimely death. The outcome was that of Rogers standing on a pastoral airstrip. Rogers was implemental in the introduction of passenger air travel to the masses. The eight-foot tall painting is a commanding presence in the rotunda as Will Rogers greets his viewers with a slight grin.
The Artist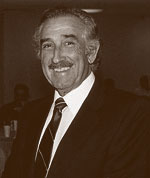 Charles Banks Wilson was born in 1918 in Arkansas and grew up in Miami, Oklahoma. Educated at the Art Institute of Chicago from 1936-1940, he was given an award from the Chicago Society of Lithographers and Etchers, and his work was added to the Art Institute collection. While at the Art Institute, he also began a project whereupon he sketched portraits of numerous members of Oklahoma's American Indian tribes – a project that would soon become a lifelong artistic journey.

Wilson completed his education in Chicago and later returned to Oklahoma in 1943, where he established a permanent studio in Miami. Two years later, he began teaching night classes in drawing at Northeastern Oklahoma A&M College. Eventually he became head of the art department, a position he held until 1960. During this period he continued to illustrate books and produce lithographs from his own press.

In 1957, he completed his first portrait commission for Tulsa oil man and collector Thomas Gilcrease. Perhaps one of Wilson's greatest achievements came when the U.S. Senate selected four of his paintings to be shown in 20 world capitals. In 2001, he was named an Oklahoma Cultural Treasure and is a member of the Oklahoma Hall of Fame.