Robert S. Kerr
by Charles Banks Wilson
Oil
Commissioned by Oklahoma State Legislature
Dimensions: 80 x 50
Commissioned 1963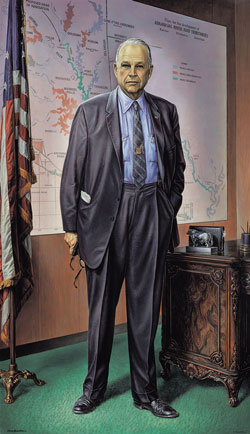 The Artwork
Robert Samuel Kerr was Oklahoma's first Oklahoma-born governor and in 1948 was the first Oklahoma governor to be elected to the U.S. Senate. His first bill in Congress created the Arkansas, White and Red River Study Commission, which was the planning stage for the land and water development in this region. This eventually led to the McClellan-Kerr Arkansas River Navigation Project, a series of 17 locks and dams making the waterway navigable from the Port of Catoosa near Tulsa in Northeastern Oklahoma to the Gulf of Mexico. He also worked for the conservation of other natural resources in Oklahoma and the nation. The Saturday Evening Post published an article about him titled "The Uncrowned King of the Senate." With family in the oil business, Kerr and Dean McGee established the internationally known energy company, Kerr-McGee Corporation.

Commissioned by the Oklahoma State Legislature, Charles Banks Wilson completed this life-size portrait of Kerr in 1967 for the state capitol rotunda. Wilson utilizes the canvas to immortalize the man whose is remembered as "The Modern Father of Oklahoma." Wilson yearned to paint the great politician for he had "fallen under the spell of his oratory." Wilson's painting exudes symbolism. One of the statues on his desk represents Kerr's love for his farm and cattle he raised there. Scraps of paper stick out of the Bible that rests on his desk marking the scriptures that Kerr included in his eloquent speeches. The large map behind Kerr represents the senator's dream to develop the Arkansas River and her tributaries. Kerr passed away in 1963 before seeing completion of that plan.
The Artist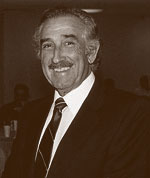 Charles Banks Wilson was born in 1918 in Arkansas and grew up in Miami, Oklahoma. Educated at the Art Institute of Chicago from 1936-1940, he was given an award from the Chicago Society of Lithographers and Etchers, and his work was added to the Art Institute collection. While at the Art Institute, he also began a project whereupon he sketched portraits of numerous members of Oklahoma's American Indian tribes – a project that would soon become a lifelong artistic journey.

Wilson completed his education in Chicago and later returned to Oklahoma in 1943, where he established a permanent studio in Miami. Two years later, he began teaching night classes in drawing at Northeastern Oklahoma A&M College. Eventually he became head of the art department, a position he held until 1960. During this period he continued to illustrate books and produce lithographs from his own press.

In 1957, he completed his first portrait commission for Tulsa oil man and collector Thomas Gilcrease. Perhaps one of Wilson's greatest achievements came when the U.S. Senate selected four of his paintings to be shown in 20 world capitals. In 2001, he was named an Oklahoma Cultural Treasure and is a member of the Oklahoma Hall of Fame.