Dr. Angie Debo
by Charles Banks Wilson
Oil
Commissioned by State Representative Robert Henry of Shawnee and State Senator Penny Williams of Tulsa
Dimensions: 22 x 26
Dedicated April 8, 1985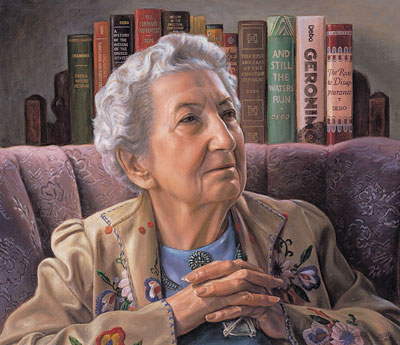 The Artwork
Dr. Angie Debo (1890-1988) was a leading scholar of Indian and Oklahoma history. Her works highlighted the fact that the Five Tribes of Oklahoma were the victims of a complex swindle. Major political figures had robbed and even murdered Indians who held oil-rich land. Banned from publication, Debo was shunned as a troublemaker until Princeton University published her books in 1950. Her nine books serve as a cornerstone of American Indian scholarship, and her research is frequently cited as evidence in present-day federal court cases involving tribal land rights. Debo also published many articles in different journals, including Harper's Magazine, and contributed chapters and forewords to books. Her last book, Geronimo, was finished when she was 85 years old. The state of Oklahoma did not recognize Debo's lifelong achievements until she was in her 90s and she was inaugurated into the Oklahoma Historians Hall of Fame.

Debo graduated with a bachelor's degree in history from the University of Oklahoma in 1918, taught history at Enid High School, and then enrolled in the University of Chicago to work on a masters degree. Because women were not allowed to enter the history field at this time, Debo served on the faculty of the history department in West Texas State Teachers College and served as curator of the Panhandle-Plains Historical Museum. She earned a Ph.D. at the University of Oklahoma in 1933. Debo taught in rural Oklahoma schools, and during World War II she served as pastor at her local Methodist church. Later she was hired full-time as Maps Librarian at Oklahoma State University. Debo died in 1988.
The Artist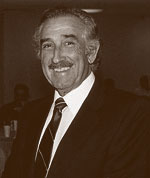 Charles Banks Wilson was born in 1918 in Arkansas and grew up in Miami, Oklahoma. Educated at the Art Institute of Chicago from 1936-1940, he was given an award from the Chicago Society of Lithographers and Etchers, and his work was added to the Art Institute collection. While at the Art Institute, he also began a project whereupon he sketched portraits of numerous members of Oklahoma's American Indian tribes – a project that would soon become a lifelong artistic journey.

Wilson completed his education in Chicago and later returned to Oklahoma in 1943, where he established a permanent studio in Miami. Two years later, he began teaching night classes in drawing at Northeastern Oklahoma A&M College. Eventually he became head of the art department, a position he held until 1960. During this period he continued to illustrate books and produce lithographs from his own press.

In 1957, he completed his first portrait commission for Tulsa oil man and collector Thomas Gilcrease. Perhaps one of Wilson's greatest achievements came when the U.S. Senate selected four of his paintings to be shown in 20 world capitals. In 2001, he was named an Oklahoma Cultural Treasure and is a member of the Oklahoma Hall of Fame.