Carl Albert
by Charles Banks Wilson
Oil
Commissioned by Carl Albert Memorial Commission
Dimensions: 42 x 32
Dedicated 1977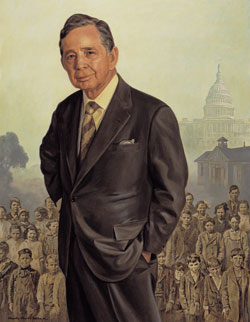 The Artwork
Born in McAlester in 1908, Carl Albert was elected the 46th Speaker of the U.S. House of Representatives in 1971, the highest elected office ever held by an Oklahoman. With an undergraduate degree in government from the University of Oklahoma, Albert won a 1931 Rhodes Scholarship and earned graduate degrees in law from Oxford University in England.

Known as the "Little Giant from Little Dixie," Albert represented Oklahoma's Third Congressional District and served as House Majority Whip and Democratic Majority Leader before his election as Speaker.

Painted by noted Oklahoma artist Charles Banks Wilson, this portrait depicts Albert and his elementary school classmates and was dedicated by the Carl Albert Memorial Commission, Julian Rothbaum, Tulsa, chairman.
The Artist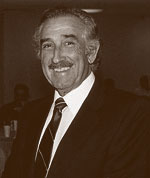 Charles Banks Wilson was born in 1918 in Arkansas and grew up in Miami, Oklahoma. Educated at the Art Institute of Chicago from 1936-1940, he was given an award from the Chicago Society of Lithographers and Etchers, and his work was added to the Art Institute collection. While at the Art Institute, he also began a project whereupon he sketched portraits of numerous members of Oklahoma's American Indian tribes – a project that would soon become a lifelong artistic journey.

Wilson completed his education in Chicago and later returned to Oklahoma in 1943, where he established a permanent studio in Miami. Two years later, he began teaching night classes in drawing at Northeastern Oklahoma A&M College. Eventually he became head of the art department, a position he held until 1960. During this period he continued to illustrate books and produce lithographs from his own press.

In 1957, he completed his first portrait commission for Tulsa oil man and collector Thomas Gilcrease. Perhaps one of Wilson's greatest achievements came when the U.S. Senate selected four of his paintings to be shown in 20 world capitals. In 2001, he was named an Oklahoma Cultural Treasure and is a member of the Oklahoma Hall of Fame.