Kate Barnard
by Sandra Van Zandt
Bronze
Commissioned by the State Capitol Preservation Commission
Dimensions: 48 x 96 x 24
Dedicated May 15, 2001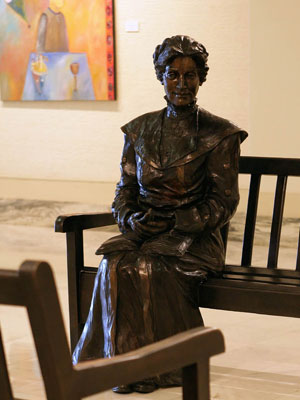 The Artwork
Kate Barnard was the first woman in American history elected to state office as well as Oklahoma's first commissioner of charities and corrections. Though she could not vote for herself in the 1907 election, she overwhelmingly received more votes than the first governor of Oklahoma, Charles Haskell. Clearly the catalyst in the evolution of women's involvement in politics, Barnard was the only woman permitted to address the Oklahoma Constitutional Convention resulting in legislation regarding child labor and mine safety. Lovingly known as Miss Kate, Barnard was deeply concerned with the welfare of prisoners, and her investigation of Oklahoma prisoners held in Kansas yielded appropriations for the first state penitentiary in McAlester. Her efforts were often focused on underprivileged children and Native American orphans.

Sandra Van Zandt's bronze sculpture of Miss Kate sits on a bronze bench in the East Gallery of the Oklahoma State Capitol. She solidly sits in turn of the century attire with neatly pinned hair and a warm welcoming slight smile. In her lap rests the treatise of her efforts, the Third Report of the Commissions of Charities and Correction. The sculpture is a favorite of children and adults alike, who can be seen taking photographs next to Oklahoma's angel of mercy.
The Artist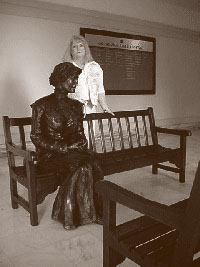 A native of Claremore, Oklahoma, Sandra Van Zandt knew she was destined to become an artist at a young age. As a young girl, she spent her time creating various works in needlepoint, stained glass, macramé, knitting, and pottery; she was constantly expressing herself with art. A graduate of Claremore High School, Van Zandt left Oklahoma to pursue an arts degree at Cottey College in Nevada, Missouri. Here she took classes in architectural design, painting, drawing, ceramics, and pottery to satisfy her appetite for artistic expression. Unable to work in bronze sculpting, Van Zandt learned to sculpt by carving on wood and salt blocks. After graduation she moved to Dallas to pursue employment as an international flight attendant.

While recovering from surgery in 1983, Van Zandt decided to start sculpting again to fill the time. She began by sculpting various animals, including her pet dog. Soon, Van Zandt presented her work to a local gallery, and at their encouragement she decided to enter the art world full-time. Moving back to Oklahoma in 1985, Van Zandt continued sculpting animals, namely dogs and birds. Her eagle sculptures quickly became popular with museums and collectors, and many are on exhibit today at major institutions across the country. Van Zandt then crept into the realm of figure sculpture completing her first major piece for the Museum of Naval Aviation. Sandra Van Zandt currently works in her studio in Talala, Oklahoma.