Robert L. Williams
by Joe R. Taylor
Bronze
Gift to the Capitol from the Robert L. Williams Estate
Dimensions: 25 height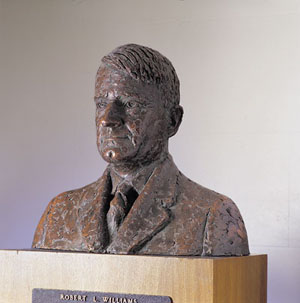 The Artwork
Governor Robert L. Williams was responsible for the completion of Oklahoma's dome-less capital and oversaw every detail. He believed the dome would be a "useless ornamentation" because he strongly wanted to stay within budget.

Robert L. Williams by Joseph Richard Taylor was a gift to the Capitol from the Robert L. Williams Estate. Taylor's sculptures are among the most prominent in the state, his sculpture of Dr. William Bennett Bizzell is in front of the library that bears his name at the University of Oklahoma. Two of Taylor's bronze bust sculptures are on display on the first floor of the Oklahoma State Capitol.

The Artist
Joseph Richard Taylor was born February 1, 1907 in Wilbur, Washington. He grew up in Canada and died December 1, 2000, in Norman, Oklahoma. Taylor received his Bachelor of Fine Arts and Master of Fine Arts from the University of Washington. Taylor also studied at Columbia University for a short time in 1940. He started teaching at the University of Oklahoma in 1933 and held a David Ross Boyd Distinguished Professorship from 1963 until becoming Emeritus in 1971. After retiring, he continued to create works of art in wood, bronze, and stone. Taylor received the Governors Lifetime Service Award for excellence in the Arts in 1978. Taylor also owned and operated a purebred cattle ranch in Grady County, Oklahoma.