Oklahoma Black Gold
by Jeff Dodd
Oil
Commission managed by Oklahoma Arts Council. Funded by private donors.
Dimensions: 132 x 264
Dedicated 1996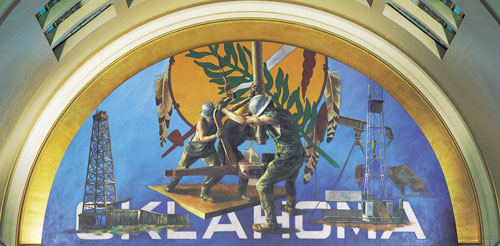 The Artwork
In 1996, Jeff Dodd was commissioned to create a mural for the Oklahoma State Capitol in celebration of the oil and gas industry. In 1998, he was commissioned to create another mural to highlight the agricultural industry in Oklahoma. It has been said that these commissions brought Dodd back to Oklahoma; the second brought him back to his small-town roots. In these works, the artist returned to the people and landscapes of his childhood and pays tribute to the impact agriculture and the oil and gas industry have had on our state. Today, the works hang over the Senate and House of Representatives chambers.

Oklahoma Black Gold celebrates the 100th anniversary of the oil and gas industry in Oklahoma. The wooden structure on the left side of the twenty-two foot mural represents Oklahoma's first attempts at drilling. The oil rig on the right side represents the boundless future of the state. The two roughnecks in the middle of the epic piece display the physical strength and stamina necessary to work in the oil patch as the Oklahoma state flag blankets the state through "booms" and "busts." Funded by private donors, the commission was managed by the Oklahoma Arts Council.
The Artist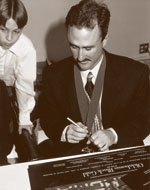 A native of rural Western Oklahoma, artist Jeff Dodd has been painting realistic portraits and landscapes for nearly 30 years. Drawing since he was a child, Dodd received his formal education from Southwestern Oklahoma State University where he graduated with a degree in commercial art. After a brief stint as a student at Wichita State University, Dodd relocated to New York City to study drawing at the Art Students League under noted teacher Tony Ryder. However, it was only after he had moved to Santa Fe in 1991 that Dodd first began painting, stating that his influences came from the art of Rembrandt, Monet, and Francis Bacon.