Governor Henry Lewis Bellmon, 1963-1967; 1986-1990
by Leonard D. McMurry
Bronze
Commissioned by the Oklahoma State Legislature
Dimensions: 25 height
1982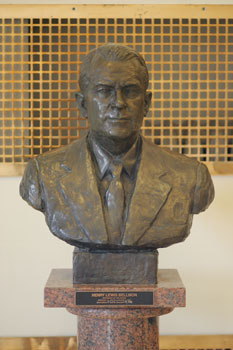 The Artwork
Henry Louis Bellmon was the first Republican Governor of the State of Oklahoma. He was born near Billings, Oklahoma on September 3, 1921 and is the son of George and Edith Caskey Bellmon. He attended Colorado State University, later transferring to Oklahoma State University where he was granted the degree of Bachelor of Science in Agriculture. Henry Bellmon served as a lieutenant with the U.S. Marine Corps from 1942 through 1946, and took part in four landings on several Pacific islands, including Iwo Jima. For his service he was awarded the Silver Star and the Legion of Merit. After the war, he returned to farming and ranching in Billings and took up politics.

He served a single term in the Oklahoma House of Representatives and was elected Governor of Oklahoma from 1963 to 1967. Under Oklahoma law at the time, he was not able to run for a second term. He was then twice elected U.S. Senator from Oklahoma, serving from 1968 to 1980 when he chose not to run again. In 1986, he was reelected as Governor, a position he held until 1990.

Bellmon was a co-founder and former co-chairman of the Committee for a Responsible Federal Budget and also served as Director of the Oklahoma Department of Human Services in 1983. He was a professor and lecturer at Oklahoma City University, Central State University, the University of Oklahoma and Oklahoma State University. Bellmon died on September 29, 2009 in Enid, Oklahoma.
The Artist
Known as Oklahoma's own "Michelangelo", Leonard McMurry was born to a family of prominent cotton farmers in the Texas panhandle. McMurry moved to Oklahoma in 1955 and then lived in Stilwell and Oklahoma City. Under the teachings of sculptors Carl Mose and Ivan Mestrovic, McMurry perfected his craft. His magnificent sculptures of Oklahoma icons can be seen across the state including the '89er statue on Couch Drive in Oklahoma City and the Praying Hands that grace the lawns of Oral Roberts University.

In accordance with Oklahoma's Diamond Jubilee celebration in 1982, Leonard McMurry was commissioned to sculpt busts of 21 past Oklahoma Governors. The Hall of Governors exudes Oklahoman's pride in her past legislative guardians. Regarding his works, McMurry states, "Each piece must have a soul, a living quality that's far more important than just physical representation. A piece has to have guts: the strength, power, and dignity, that makes it a monument." McMurry has accomplished that very feat within the grandiose Hall of Governors in which visitors may come face to face with naturalistic representation of Oklahoma leaders.