Tallgrass Prairie
by Wayne Cooper
Oil
Commissioned by the Oklahoma State Senate Historical Preservation Fund, Inc.
Dimensions: 60 x 96
Dedicated October 2, 2001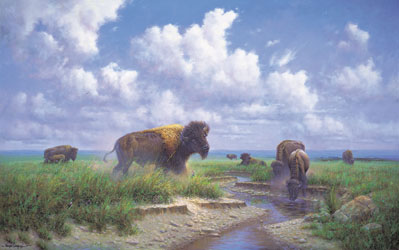 The Artwork
The tallgrass prairie was one of North America's major ecosystems originally spanning portions of 14 states and covering over 142 million acres. It was a complex landscape, harboring a rich diversity of plants and animals, that was shaped by nature.

Today, less than 4% of the original tallgrass prairie remains. Most of it has been converted to farmland. Large, unbroken tracts of tallgrass prairie only exist now in the Flint Hills of Oklahoma and Kansas. In 1989, the Nature Conservancy purchased the 29,000-acre Barnard Ranch as the cornerstone of the Tallgrass Prairie Preserve. The Preserve now consists of 38,600 acres of land owned or leased by The Nature Conservancy. The Conservancy's goal is to recreate a functioning tallgrass prairie ecosystem using controlled burns and bison. In 1993, 300 bison were reintroduced and will eventually grow to a herd of 3,200 animals freely roaming on 32,000 acres of preserve.
The Artist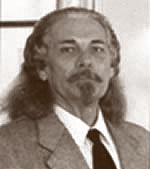 Wayne Cooper is a nationally acknowledged painter known for his portrayals of Western and American Indian subjects. He comes from a background of Indian heritage and was raised on a small ranch gaining firsthand knowledge of Oklahoma ranch life.

Cooper is listed in Artists USA, Who's Who in the Midwest, Who's Who in American Art, International Who's Who in Art and Antiques, Universal Directory of the Art and Personalities of the Americas, and others.

His works consist of oils, watercolors, charcoals, pencil, bronze sculpture, and lithographs. His works are held in many private and public collections worldwide, including the halls of the Oklahoma State Senate and House of Representatives.