Governor Brad Henry
by Paul Moore
Bronze
Commissioned by the State Capitol Preservation Commission
Dimensions: 25 height
Dedicated January 4, 2011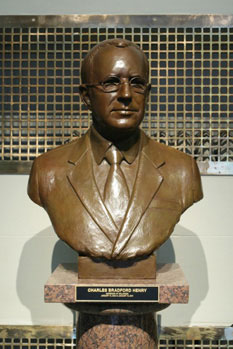 The Artwork
A third generation Oklahoman, Governor Brad Henry was born in Shawnee, Oklahoma, in 1963. Henry attended public schools and graduated from Shawnee High School. The governor attended the University of Oklahoma as a President's Leadership Scholar and earned a bachelor's degree in economics in 1985. In 1988, he was awarded his law degree from the University of Oklahoma College of Law, where he served as managing editor of the Law Review.

Governor Henry returned to Shawnee to practice law with his father, Charles, and start a family. He married the former Kim Blain, a Shawnee school teacher, and they have three lovely daughters, Leah, Laynie and Baylee.

Before his election as governor, Brad Henry served ten years in the Oklahoma State Senate, chairing the Senate Judiciary Committee and serving as vice-chair of the Senate Economic Development Committee. As a gubernatorial candidate in 2002, his campaign themes focused on strengthening education, providing quality health care and ensuring greater economic opportunities for all Oklahomans. His refreshing approach connected with voters, and Brad Henry won the election in November 2002. He was officially sworn in as Oklahoma's 26th governor on January 13, 2003.

Throughout his time as governor, Governor Henry put aside partisan differences and pursued those ideas that were in the best interest of all Oklahomans. His bipartisan and inclusive leadership earned the respect of voters. Governor Henry was re-elected in 2006 by one of the largest margins in state history.

To build a better state, Governor Henry pushed for a stronger, more accountable education system, more affordable and accessible health care, better roads and bridges and greater economic opportunities for all citizens. During his tenure, the governor has enjoyed great success is passing major planks of his legislative agenda and moving the state forward. Everywhere he goes, Governor Henry urges fellow Oklahomans to be more prideful in their state, put aside their differences and work together for the common good. As he often likes to say, "We are not Republicans, Democrats or Independents. We are all Oklahomans, first, last and always."
The Artist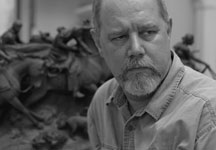 Paul Moore is a native Oklahoman who has gained national and international recognition with his sculpture. He was born in Oklahoma City in 1957 and is a member of the Creek (Muscogee) Nation, Sweet Potato Clan. Paul Moore is a Fellow and Board Member of the National Sculpture Society and a member of the Cowboy Artists of America. He is in constant demand for portrait and monumental commissions. He is also the Artist in Residence and Professor of Figurative Sculpture at the University of Oklahoma, Norman, OK.

Moore has sculpted more than 110 commissions for numerous municipal, corporate, private and international collections. His work is in the US Capital Collection and the Smithsonian's National Portrait Gallery in Washington, D.C. and in 2008 his portrait of Dr. Thomas Rees, one of the three founding members of the Flying Doctors of East Africa, was unveiled at their main headquarters in Nairobi, Kenya, Africa. The same year his sculpture "Coming of Age" was placed in the Brookgreen Gardens permanent collection at Pawleys Island, SC.