Te Ata
by Nellie Ellen Shepherd
Oil
Commissioned by the Oklahoma State Senate Historical Preservation Fund, Inc.
Dimensions: 48 x 40
Dedicated February 8, 2010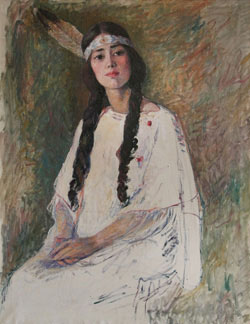 The Artwork
Te Ata (1895-1995) was a traditional Native American storyteller, also known as Mary Frances Thompson Fisher, was born in the Chickasaw Nation near Tishomingo, on December 3, 1895. Her parents were members of the Chickasaw Nation. Her father, T. B. Thompson, the last treasurer of the Chickasaw Nation, operated stores in Tishomingo. Te Ata's uncle, Douglas H. Johnston, was the last governor of the old Chickasaw Nation.

Mary Thompson attended Bloomfield Academy in the far southeast corner of Johnston County. Later she attended high school in Tishomingo, encountering white children for the first time. Later, while attending the Oklahoma College for Women (now the University of Science and Arts of Oklahoma) in Chickasha, she acquired a mentor, Francis Densmore Davis, an active researcher and writer on Indian cultures. Davis recognized the young woman's talent for drama and soon Mary began to use the name Te Ata, reflecting her American Indian heritage.

Te Ata worked on a Chautauqua circuit and developed her style of storytelling using various American Indian sources using readings, storytelling, and dance. She eventually also used small drums, rattles, and other traditional instruments.

She attended the Carnegie Institute of Technology in Pennsylvania and then moved to New York City where she worked in theater. It was there that Te Ata met Clyde Fisher, a naturalist and the eventual curator of the Haden Planetarium, and they married in 1933.

In 1933, Te Ata performed for the first state dinner given by President Franklin Roosevelt. Many of her performances in the 1930s were at summer camps throughout New England and New York. In 1939, she performed again for the Roosevelts at their home in Hyde Park, New York, on the occasion of a state visit by the king and queen of Great Britain.

Te Ata toured Europe, giving performances for royal families and heads of state. The Fishers traveled in South America and extensively in the United States, often observing Native ceremonies and learning different traditions. Te Ata incorporated these experiences in performances later in her storytelling.

In 1958, Te Ata was recognized by the Oklahoma Hall of Fame. In 1975, Te Ata received a "special recognition" award at the first Governor's Arts Awards ceremony. In 1987, Te Ata was designated as the state's first Cultural Treasure by Governor Henry Bellmon and the Oklahoma Arts Council. Te Ata continued traveling and telling her stories until the late 1970's. The aunt of late Senator Helen Cole and the great-aunt of U.S. Congressman Tom Cole, Te Ata died in 1995, a few days before her 100th birthday.

Her name, Te Ata, means "Bearer of the Morning." She preserved and promoted great affection for old ways, American Indians, and natural beauty.
The Artist
One of Oklahoma's earliest professional woman artists, Nellie Ellen Shepherd was born in Thayer, Kansas, on April 30, 1877. Her parents, George T. and Martha Ellen Shepherd, brought their six daughters and two sons to a homestead near Oklahoma City in the Land Run of 1889. After graduating from high school, Nellie Shepherd attended the Academy of Art in Cincinnati and then studied for three years in France, where her portrait of her sister Lottie was selected for exhibit at the 1910 Paris Grand Salon and won Honorable Mention.

In 1916 she spent several months studying in the art institutes of Chicago and Kansas City. In autumn 1917 she became head of the art department at the Oklahoma College for Women in Chickasha. She also taught privately and in 1918 was elected president of the Oklahoma Art Association. Plagued by ill health, after spending time in Arizona and Colorado, she died in Tucson of tuberculosis on July 18, 1920. An impressionist, Nellie Shepherd worked primarily in oils and preferred portraiture.

Most of the Shepherd homestead, located around Northwest 23rd Street in Oklahoma City, was sold to make way for Shepherd Mall and for a residential area. The Shepherd Historic District, was listed in the National Register of Historic Places in 1997.