Dr. John Hope Franklin
by Everett Raymond Kinstler
Oil
Commissioned by the Dr. John Hope Franklin Portrait Committee
Dimensions: 46 x 36
Dedicated on February 22, 2012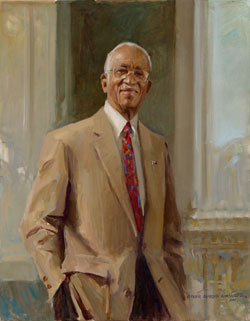 The Artwork
Born in Rentiesville, Oklahoma, John Hope Franklin graduated from Booker T. Washington High School in Tulsa and went on to become a nationally recognized historian and civil rights advocate. Franklin said it was his desire "to weave into the fabric of American history enough of the presence of Blacks so that the story of the United States could be told adequately and fairly."

In 1941, Franklin earned his doctorate in history from Harvard University and went on to a lifelong career in teaching. Franklin became the first person of color to head a major history department when he was selected to chair the history department at Brooklyn College. In 1983, Franklin became the James B. Duke Professor of History and Professor of Legal History at the Duke University Law School where three academic units are now named for him. Duke offered to name a center for African American Studies after Franklin, but he politely declined, saying he was a historian of America and the world too.

Franklin's prolific writing might only be outdone by his dedication to civil rights. His work From Slavery to Freedom was first published in 1947 and has sold more than three million copies worldwide.

In the early 1950s, Franklin served on the NAACP Legal Defense Fund team led by Thurgood Marshall that helped develop the case for Brown v. Board of Education, which eventually ended segregation in public schools. Franklin also marched with the Rev. Martin Luther King, Jr. in Selma, Alabama.

In 1995, President Clinton awarded Franklin the nation's highest civilian honor, the Medal of Freedom. In 2002, scholar Molefi Kete Asante included Franklin on his list of 100 Greatest African Americans, and in 2004, the State of Oklahoma recognized Franklin as an Oklahoma Cultural Treasure.

A few months prior to his 2009 death, Franklin made one of his last public appearances during the groundbreaking of the John Hope Franklin Reconciliation Park in Tulsa. Reflecting on his life he noted that he "would like [his] students to take up where [he] left off and to carry on the fight to establish history as a powerful force for good - a constructive force to rectify the ills of our society-- to change the world, as it were."
The Artist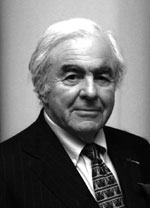 Everett Raymond Kinstler's prolific career has established him as one of the nation's foremost portrait painters. Among Kinstler's more than 1,200 portraits are well-known celebrities and personalities in the entertainment industry, authors, and business leaders. Kinstler has painted portraits of secretaries of state, Supreme Court justices, U.S. governors, U.S. senators, and university presidents.

Seven U.S. presidents have posed for Kinstler, including Richard Nixon, Gerald Ford, Jimmy Carter, Ronald Reagan, George H.W. Bush, Bill Clinton, and George W. Bush. The Smithsonian National Portrait Gallery in Washington, D.C. has acquired more than 100 of his original works for its permanent collection. In 1999, Kinstler received the gallery's highest honor, the Copley Medal.