Jim Thorpe
by Charles Banks Wilson
Oil
Commissioned by Oklahoma State Legislature
Dimensions: 80 x 50
Commissioned 1963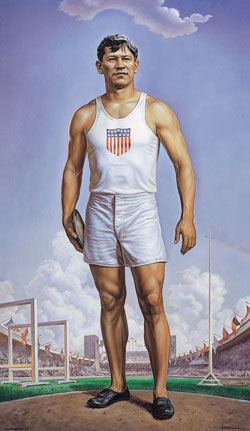 The Artwork
Jacobus Franciscus "Jim" Thorpe is considered one of the most versatile athletes in modern sports. This Sac and Fox Indian from Oklahoma won Olympic gold medals in the pentathlon and decathlon and was called "the greatest athlete in the world" by Sweden's King Gustav V. Thorpe starred in college and professional football, played major league baseball and also had a career in basketball. He subsequently lost his Olympic titles when it was determined he had played two seasons of minor league baseball prior to competing in the games, thus violating the amateur status rules.

In 1950, the Associated Press named him the greatest football player and greatest all-round athlete for the first 50 years of that century. In 1983, thirty years after his death, Thorpe's Olympic medals and records were restored by the Olympic Committee.

Commissioned by the Oklahoma State Legislature, Charles Banks Wilson completed this life-size portrait of Thorpe in 1968 for the state Capitol rotunda. The portrait was unveiled by Elmer Manatwa, Chief of the Sac and Fox Tribe and celebrated with a large Indian pow wow on the Capitol grounds.
The Artist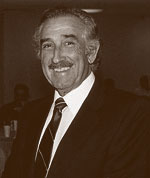 Charles Banks Wilson was born in 1918 in Arkansas and grew up in Miami, Oklahoma. Educated at the Art Institute of Chicago from 1936-1940, he was given an award from the Chicago Society of Lithographers and Etchers, and his work was added to the Art Institute collection. While at the Art Institute, he also began a project whereupon he sketched portraits of numerous members of Oklahoma's American Indian tribes – a project that would soon become a lifelong artistic journey.

Wilson completed his education in Chicago and later returned to Oklahoma in 1943, where he established a permanent studio in Miami. Two years later, he began teaching night classes in drawing at Northeastern Oklahoma A&M College. Eventually he became head of the art department, a position he held until 1960. During this period he continued to illustrate books and produce lithographs from his own press.

In 1957, he completed his first portrait commission for Tulsa oil man and collector Thomas Gilcrease. Perhaps one of Wilson's greatest achievements came when the U.S. Senate selected four of his paintings to be shown in 20 world capitals. In 2001, he was named an Oklahoma Cultural Treasure and is a member of the Oklahoma Hall of Fame.