Sequoyah
by Charles Banks Wilson
Oil
Commissioned by Oklahoma State Legislature
Dimensions: 80 x 50
Commissioned 1963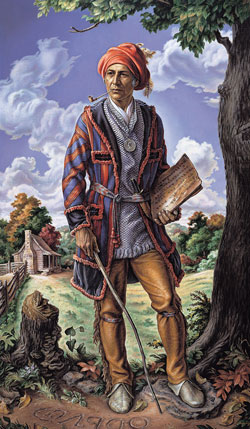 The Artwork
Sequoyah was a Cherokee Indian who was a skilled silver craftsman who never learned to speak, write or read English. He is credited with inventing the Cherokee syllabary, which had a profound influence on the tribe. Within several months of Sequoyah's unveiling of his invention, a substantial number of people in the Cherokee Nation reportedly were able to read and write in their own language. By 1825 much of the Bible and numerous hymns had been translated into Cherokee. By 1828 the first Indian newspaper was published along with religious pamphlets, educational materials and legal documents. He continued to serve the Cherokee people as a statesman and diplomat until his death.

Commissioned by the Oklahoma State Legislature in 1963, Charles Banks Wilson completed this life-size portrait of Sequoyah for the state capitol rotunda in 1965. In preparation to paint the legendary Cherokee, Wilson roamed the hills near Sequoyah's home. Armed with a recreation done with crayon of a painting of Sequoyah that burned in a fire at the Smithsonian Institute, Wilson searched Tahlequah for anyone that may resemble Sequoyah. As a result, six men and one woman posed as models for the portrait. In honor of Sequoyah's creation of the Cherokee alphabet, Wilson depicts the legendary figure writing into the rich soil of Oklahoma with a stick, a common occurrence among teachers of the time.
The Artist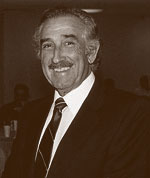 Charles Banks Wilson was born in 1918 in Arkansas and grew up in Miami, Oklahoma. Educated at the Art Institute of Chicago from 1936-1940, he was given an award from the Chicago Society of Lithographers and Etchers, and his work was added to the Art Institute collection. While at the Art Institute, he also began a project whereupon he sketched portraits of numerous members of Oklahoma's American Indian tribes – a project that would soon become a lifelong artistic journey.

Wilson completed his education in Chicago and later returned to Oklahoma in 1943, where he established a permanent studio in Miami. Two years later, he began teaching night classes in drawing at Northeastern Oklahoma A&M College. Eventually he became head of the art department, a position he held until 1960. During this period he continued to illustrate books and produce lithographs from his own press.

In 1957, he completed his first portrait commission for Tulsa oil man and collector Thomas Gilcrease. Perhaps one of Wilson's greatest achievements came when the U.S. Senate selected four of his paintings to be shown in 20 world capitals. In 2001, he was named an Oklahoma Cultural Treasure and is a member of the Oklahoma Hall of Fame.