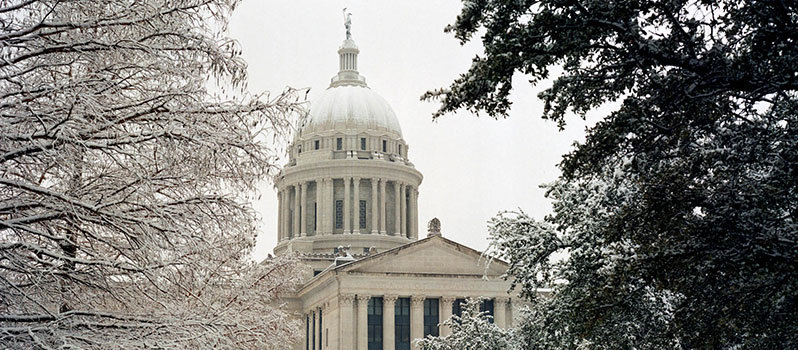 Oklahoma State Capitol
Art Collection
Building and Grounds
Works of art located on the grounds of the Oklahoma State Capitol are listed below alphabetically by title.

Architecture
Celebrated architect Solomon Layton was the original architect for the Oklahoma State Capitol which was constructed between 1914 and 1917 in the classic Greco-Roman (also known as neo-classical) style for a mere $1.5 million. The Capitol building is mainly composed of white limestone with a base of Oklahoma pink granite. Layton's original plans called for a domed Capitol, but the outbreak of WWI and state financial woes delayed construction. The dome was completed in 2002 according to Layton's original designs, a full 85 years after the construction of the State Capitol.
As Long as the Waters Flow by Allan C. Houser

As Long as the Waters Flow

by Allan Houser refers to President Andrew Jackson's vow to Native Americans that they shall posses their land "as long as the grass grows and the rivers run."

The Guardian by Enoch Kelly Haney

The Guardian

embodies the diversity within the proud and strong population of Oklahoma while serving as a reminder of our tumultuous times. It stands prominently atop the Oklahoma State Capitol dome where it was lifted on June 7, 2002.

Tribute To Range Riders by Constance Whitney Warren

Constance Whitney Warren's intricately detailed sculpture of a bucking bronco and a steadfast cowboy in wool chaps was the first sculpture installed on the grounds of Oklahoma's State Capitol.