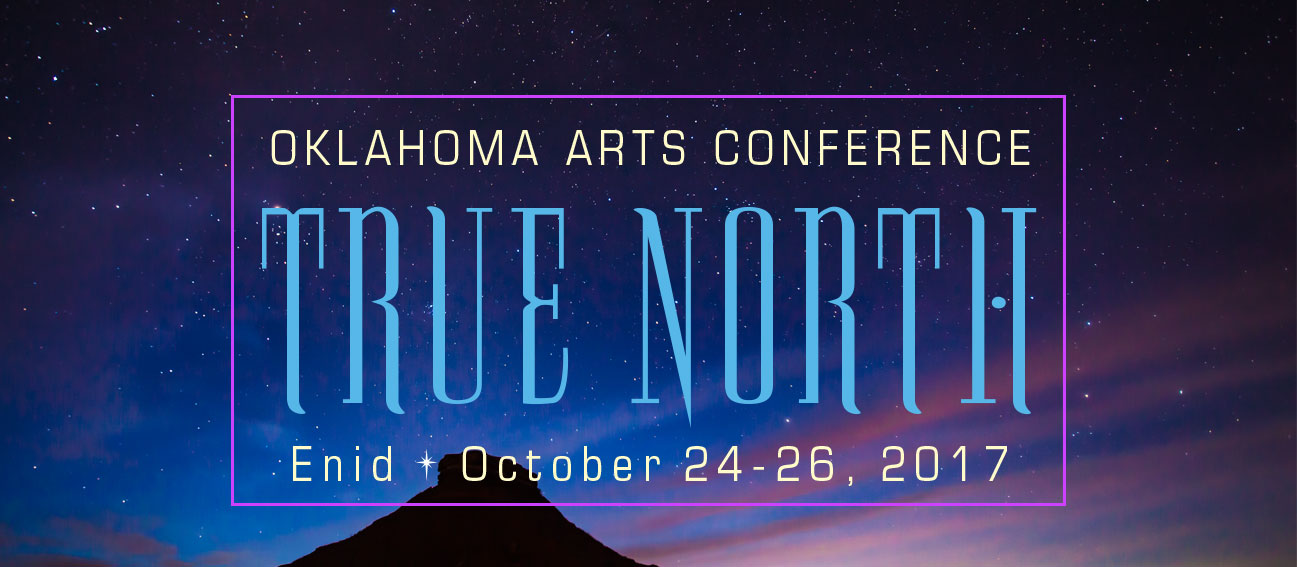 2017 Oklahoma Arts Conference
Conference Schedule
Pre-conference
Tuesday, October 24, 2017
Wednesday, October 25, 2017
Thursday, October 26, 2017

1:30pm - 5:00pm
Tour of Downtown Enid's Arts and Cultural Spaces
Location: Central National Bank Center, 301 S. Independence Ave.
Room: South End of the Central National Bank Center Parking Lot

Spend the afternoon visiting several of Enid's spaces where the arts and culture thrive. Featured locations include the Scribner's Studio, Enid Symphony Center, Holden Art & Law, Gaslight Theatre, Leonardo's Children's Museum, Mike Klemme Photography, Creative Arts Enid and Simpson's Old Time Museum. Participants will also get to see a variety of Enid's downtown public art works. The cost for this tour is $10 per person. The tour will depart from the south end of the Central National Bank Center parking lot. Transportation and light refreshments will be provided, but some walking is required. It is recommended that participants wear good walking shoes.

2:00pm - 4:30pm
Photography Workshop with Mike Klemme
Location: Mike Klemme Photography, 222 E. Maple Ave.
Room: Mike Klemme Photography

Join photographer, Mike Klemme, at his Enid studio to learn artistic techniques for high quality composition in professional and commercial photography. One of the most widely published photographers in his field, Klemme has contributed thousands of photographs to multiple nationally-renowned magazines and publications including

Golf Digest, Sports Illustrated, ESPN The Magazine, USA Today

, and

Men's Journal.

He has also contributed to a number of books and published two, Celebrating Oklahoma! and Celebrating Enid! Klemme will share tricks of the trade and help class members develop and refine skills such as paying attention to detail and capturing the aesthetic vision through a photograph. This class is geared toward individuals who have some basic experience in the art of photography either as professionals, visual artists, or hobbyists. Class members are encouraged to bring a professional camera with them to the class. The registration fee for this workshop is $10 per person. Availability is limited, and this workshop is offered on a first-come first-served basis.



3:00pm - 5:00pm
Figure Drawing Lesson with Sara and Shane Scribner
Location: Scribner's Studio, 124 S. Independence Ave.
Room: Scribner's Studio
Join artists Sara and Shane Scribner in their downtown studio Tuesday, Wednesday, or Thursday to participate in a two-hour figure drawing class. Using a live, clothed model, they will teach basic techniques for figure drawing. Boards, paper, and standard drawing media will be provided. Participants are welcome to bring their own personal drawing supplies such as paper, pencils, chalk, charcoal, and erasers. Cost per lesson is $15 per person, which can be paid at registration. Availability is limited to 12 people for each session, and this opportunity is available first-come, first served.



About the Artists:


Sara and Shane Scribner specialize in classical figurative painting techniques, and their work has been exhibited in galleries and competitions throughout the nation. The couple met while studying art at the Academy of Art in San Francisco. They married in 2004 and moved to Enid in 2006 where they remodeled a downtown building into a live-work space which included a studio and storefront gallery. Sara and Shane are graduates of the Oklahoma Arts Council's 2009 Leadership Arts program. They are represented by JRB Gallery in Oklahoma City, and they recently established an additional studio space in Oklahoma City's Paseo Arts District.

7:00pm - 8:30pm
Legends Nagonagogee
Location: Enid Symphony Center, 301 W. Broadway
Room: Enid Symphony Center
"Legends Nagonagogee" is a presentation of the rich, oral tradition of America's first peoples. Filled with songs, legends, and language, this one-man show features Will Hill, a full blood Native American Indian. He has performed in over 3,500 venues nationwide since 1990, and won numerous awards including Favorite Indian Performer in the state of Oklahoma and the Mocelyn Larkin Cultural Achievement Award. You will hear the voices of his ancestors as he shares his own family's repertoire of stories and folklore. This performance is ideal for all ages.

This program is made possible through a partnership between Enid Public Library and the OSU Library, bringing One Book, One Community: Enid Reads Prairie City by Angie Debo to the community. This event is part of an engaging series of public programs designed to foster a sense of community through a shared reading and arts experience, to encourage literacy, to highlight the humanities through regional history and literary heritage, and to expand and appreciation for Angie Debo as a writer and interpreter of Oklahoma and Native American history. All programs are free and open to the public. This program is being supported in part by the Oklahoma Arts Council.
Questions?
For more information contact our Assistant Director.