Diana J. Smith
Smile
Governor's Gallery - June 9 - August 3, 2014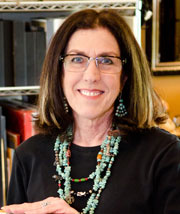 Oklahoma City based artist Diana J. Smith has spent the last several years painting dogs of various breeds in every pose and expression imaginable. For this exhibit titled Smile, Smith focused specifically on the smiles of dogs.
"When a dog smiles, he is telling us that he is not a threat," says the artist. "Much like the smile of a human, his is an expression that disarms possible unpleasantness. Although scientists tell us that dogs are incapable of the emotion necessary to smile, dogs have figured out that smiles bring hugs, belly rubs, and treats."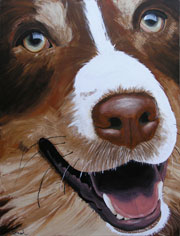 "My dog's smile lets me know that all is well in her world," Smith continues. "It helps me feel that all is well in my world also. It is this feeling that is the impetus behind the Smile series."
To prepare for this exhibit, Smith spent time watching and photographing dogs at the dog park, dog shows, and around her neighborhood. To keep the paintings true to the natural colors of canine hair and features, she used a color palette of earth tones. The composition of many of the paintings is zoomed tight on the faces of the dog, eliminating extraneous detail in order to focus attention on the expressions of the subject. In a few of the paintings, Smith has zoomed even further in, displaying only a nose and mouth, keeping attention on the smile and allowing the viewer to visualize the rest of the exuberant dog.
Born and raised in Oklahoma, Smith attended Northwest Classen High School and the University of Oklahoma. She holds a Bachelor of Fine Arts in painting.
In 1984, Smith established a graphic design firm, Designsmith, Inc., a business that continues to thrive today and has earned her dozens of awards, including local and regional ADDY Awards.
Smith has exhibited her fine art in numerous juried, group, and solo shows and has won many awards for her paintings, masks, and mixed-media figures. Most recently, a mixed-media work by Smith won Best in Show at the Paseo Art of the Heart juried exhibition. Also recently, Smith and three other local artists developed an exhibit tilted Beneath the Surface, featured first at IAO Gallery in Oklahoma City and then at Leslie Powell Gallery in Lawton. In 2013, Smith presented The Dog and Pony Show at In Your Eye Gallery in Oklahoma City with guest artist Kristen Vails.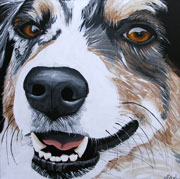 Smith is a member of Fiber Artists of Oklahoma, Individual Artists of Oklahoma, Oklahoma Art Guild, Oklahoma Visual Arts Coalition, and Paseo Arts Association. Her work is currently exhibited at In Your Eye Art Gallery in the historic Paseo Arts District in Oklahoma City and ARTifacts Gallery in Eureka Springs, Arkansas.