Marjorie Atwood
SubText
Governor's Gallery - November 25, 2013 - January 26, 2014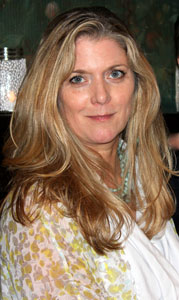 Tulsa-based artist Marjorie Atwood works in a variety of media including watercolor, oil, and encaustic painting. For this exhibit, titled SubText, she combines media and subject matter to explore the themes underlying her basic sources of inspiration. While diverse in imagery, her artwork is unified by similar threads of surface pattern, texture, and a rich color palette of golds, silvers, and reds.
Recently, while working on a painting for Tulsa's non-profit program, Operation Aware, the young artist with whom Atwood was paired chose to paint horses. In this process, Atwood was reminded of her own love of horses, having grown up riding in Oklahoma. In some of the artwork for this exhibit, Atwood explores the mythical power horses had for her as a young girl, combining the figure of the horse with the archaic qualities of the cave drawings in Lascaux, France, communicating the inspiration she felt as a young girl.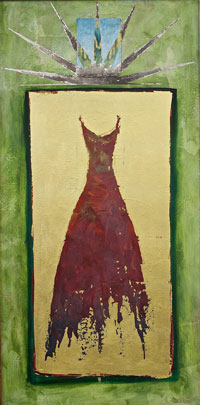 Other works in the exhibit feature abstract figures. For Atwood, these paintings articulate a longtime source for her art, describing "the simplicity and power of gesture drawings, how the weight and grace of the human form can be so simply rendered by a single stroke. This style captures the essence of movement, a deliberate action opening out towards life and the freedom to choose."
In other works, Atwood creates the image of dresses. For these paintings, she says, "I reach back for the submerged but resonant text of self-discovery and self-determination that pulses through our lives and our place in society."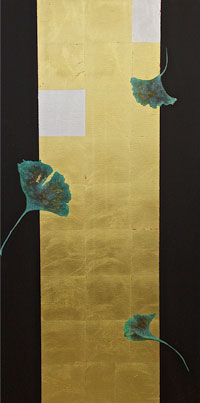 After growing up in Oklahoma, Atwood went on to graduate from Sarah Lawrence College in Bronxville, New York, with a Bachelor of Arts.
She continued her education with courses and certificates in interior surface design techniques, including gilding, faux finishes, Japanese lacquers, metalsmithing, and more. With that, Atwood became a highly successful interior artist and went on to earn a Master of Fine Arts from the University of Tulsa.
Atwood's background as an interior artist informs the fine art she creates today, notably her use of gold and silver leaf and metal finishes. Through her fine artwork, she achieves an effect of layering, both physically and metaphorically, which gives each painting a profound life of its own, a life that seems to change with every viewing.