Joan Matzdorf
Landscapes and More
Governor's Gallery - October 25 ? December 26, 2010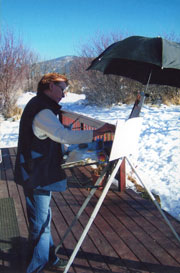 En plein air is a French expression which means "in the open air," and is often used to describe the act of painting outdoors. With the mid-19th century development of the Barbizon school and the movement known as Impressionism, working in the natural light became particularly important. Impressionists such as Claude Monet and Pierre-Auguste Renoir were knows as "painters of light," and painting on site in the open air allowed them to capture the natural characteristics of sunlight on the landscape.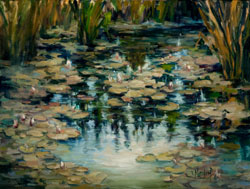 Joan Matzdorf took her first art class at the Philbrook Museum of Art in Tulsa when she was five years old. Thus began her extensive education in painting. After graduating from Central High School in Tulsa with honors in the arts, she went on to study at the Albright Art Institute in Buffalo, New York. From New York she traveled to Europe where she spent a year developing her skills in plein air painting. Upon her return to Tulsa, Matzdorf continued her painting education while taking courses under Alexandre Hogue at Tulsa University, as well as several workshops taught by artists such as Matt Smith, C.W. Mundy, and Scott Christensen.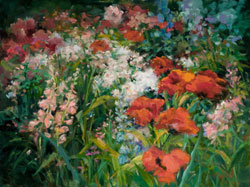 Matzdorf says she feels blessed to be an artist. "Being an artist opens your eyes to everything in daily life. For me, this means combining realism and imagination, the essence of blending shapes, tones, colors, textures, edges, line, and atmosphere. Working this way allows me to go beyond the physical object. There is nothing more beautiful than sunlight playing on an object and color dancing on the canvas. With brush, paint, and canvas at hand, it is pure joy to capture the emotion of the moment."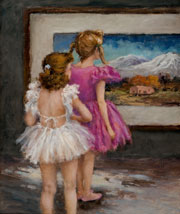 Matzdorf's artwork has been featured at the Philbrook and Gilcrease museums in Tulsa as well as the Saks Gallery in Denver, Southwest Gallery in Dallas, Greenhouse Gallery in San Antonio, Elkhorn Gallery in Colorado, Marion Gallery in Glenview, Illinois, and the Nelson Atkins Museum in Kansas City. Her art is part of the permanent collection at the Albright Art Institute in New York. Matzdorf is currently represented by galleries in Oklahoma, Pagosa Springs, Colorado, and Glenview, Illinois.
Matzdorf is an associate member of the Oil Painters of America, Women Artists of the West, Plein Air Painters of America, and a signature member of Plein Air Artists of Colorado. In 2008, she was inducted into the prestigious Chicago Palette and Chisel Club which was founded in 1895 to further fine art in the Midwest.