Expanding Our Horizons
Artwork of the Cotton County Art Council
Governor's Gallery - March 2 ? May 3, 2009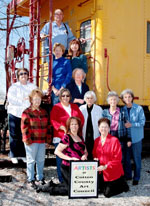 The Expanding Our Horizons exhibit includes works of art created by a group of very dedicated and accomplished artists from the Cotton County Art Council in Walters, Oklahoma.
Formed in 1966, the Cotton County Art Council hosted their first art show on the sidewalks of downtown Walters on May 3, 1969. Now, more than 40 years later, the annual art show attracts exhibitors and tourists from across north Texas and southern Oklahoma.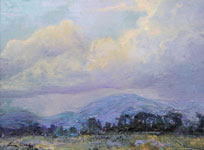 Through the years, their summer workshops, weekly painting lessons called "Paint-Outs," and scholarships for college and high school art students have succeeded in bringing the arts to their community and the community to the arts. Thanks to a grant from the Oklahoma Arts Council and a great deal of hard work by community volunteers, these programs provide access to the arts that have had a lasting and transforming effect on the lives of people in this community.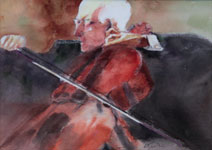 In 1984, the Council took on the tremendous task of restoring the abandoned Rock Island Train Depot to use as their headquarters. Various fund raising activities resulted in a beautifully restored depot in 1987 that serves as a handsome art center for Council activities and other community events. In 1999, the Walters Depot was placed on the National Register of Historic Places.
Expanding Our Horizons presents works by local artists including Bill Boyer, Lena Calfy, Pattie Calfy, Doris Crow, Thelma Cunningham, LaMonte Dolman, Lavonne High, Leslie Irvin, Linda Moore, Ruby Robertson, Oleta Robinson and Sharon Wiley.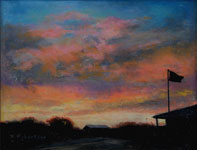 One artist who grew up in the Oklahoma Panhandle, said she was "fortunate to have school teachers who instilled in me a love of art and a desire to draw and paint." Another artist said after moving to Walters, she "discovered the Cotton County Art Council. It was because of this group that my love for painting was renewed."
These artists are serious about their work although several of them never intended to become artists. "Although I have always appreciated art, I had no desire to become an artist?But the Cotton County Art Council offered a summer workshop for beginners only?after attending this workshop, I knew that I was hooked."