The California Road
by Wayne Cooper
Oil on canvas
Gift of Senator Joe & Carol McGraw. A Project of the Oklahoma State Senate Preservation Fund, Inc. through the support of Senator Joe & Carol McGraw, 2008.
Dimensions: 96 x 72
2008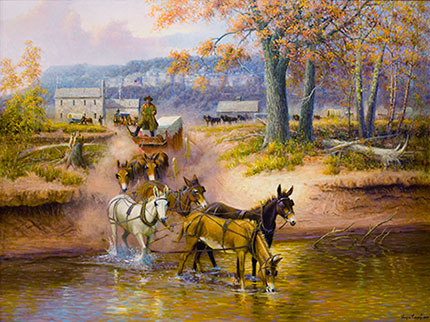 The Artwork
An overland trail route through Indian Territory was known as "The California Road." It started at Fort Smith, Arkansas, and followed the south bank of the South Canadian River through Indian Territory. This southern route along the Canadian River was an established trade route even prior to the California gold rush.

In 1834, Edwards' Post was established as a trading post where the Little River meets the South Canadian River, in what is now Hughes County. The Cherokee scout, Jesse Chisholm, worked at the trading post and, in 1836, married Edwards' daughter Eliza.

The road remained an important route west until railroads were built through Indian Territory in the 1880-90s. Today, ruts of the trail remain in Red Rock Canyon State Park. The route was used for modern highways, including U.S. Highway 40.
The Artist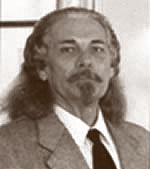 Wayne Cooper is a nationally acknowledged painter known for his portrayals of Western and American Indian subjects. He comes from a background of Indian heritage and was raised on a small ranch gaining firsthand knowledge of Oklahoma ranch life.

Cooper is listed in Artists USA, Who's Who in the Midwest, Who's Who in American Art, International Who's Who in Art and Antiques, Universal Directory of the Art and Personalities of the Americas, and others.

His works consist of oils, watercolors, charcoals, pencil, bronze sculpture, and lithographs. His works are held in many private and public collections worldwide, including the halls of the Oklahoma State Senate and House of Representatives.