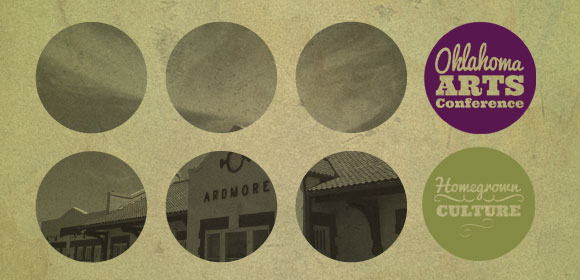 Oklahoma Arts Conference
Conference Schedule

NOTE: Check back for updates! Additional sessions and events will be added.

Tuesday, October 22, 2013
Pre-Conference Chickasaw Cultural Tour
10:30 a.m. - 5:00 p.m.
Cost: $30 per person.
Start your conference experience with a cultural journey through the beautiful and scenic Chickasaw region of southern Oklahoma. The tour will depart from Ardmore and includes stops at the following destinations: The Chickasaw Cultural Center, the Artesian Hotel in downtown Sulphur and the Bedr? Chocolate Factory and Welcome Center in Davis. The tour costs $30 per person, which includes transportation to all locations, admission to the Chickasaw Cultural Center and lunch at the Aaimpa? Caf?. Special focus will be placed on how the Chickasaw Nation has played a leading role in revitalizing historic downtown Sulphur and developing cultural tourism in the region. The tour will finish in Ardmore. For participants that arrive in Ardmore by train, transportation will also be provided to local restaurants and evening pre-conference activities.
This tour is limited to first-come, first-served registrants, and pre-registration is required.
Tuesday, October 22, 2013
Pre-Conference Activities
10:30 a.m. - 6:00 p.m.
Registration Open
Ardmore Train Depot
251 E. Main Street
2:00 p.m.
Downtown Historic Tour with Tom Walker
Departs from the Ardmore Train Depot, 251 E. Main Street
Join Ardmore host and historian Judge Tom Walker as he leads you on a fascinating tour of downtown Ardmore. The tour includes stops at historically significant sites, and the emphasis is on the unusual, unique or inaugural events that took place in Ardmore prior to the Great Depression. From the first public high school in Oklahoma to shady characters and outlaws, this tour includes captivating tales of what was established as a lively town in the Wild West.
This is an outdoor walking tour that will depart from the Ardmore Train Depot at 2:00 p.m. It is recommended that participants wear comfortable shoes. No reservations needed.
5:30 p.m. to 7:00 p.m.
"Welcome to Ardmore" Reception and Artist Exhibit
Ardmore Train Depot, 251 E. Main Street
Enjoy light refreshments and see the work of Ardmore area artists on display at the Ardmore Train Depot. An unveiling of a new public art sculpture will also be presented by the Ardmore Chamber of Commerce, Ardmore Main Street Authority and the Charles B. Goddard Center. The granite sculpture was created through a community collaboration under the direction of internationally acclaimed artist Jes?s Moroles.
7:30 p.m.
deadCENTER Film Festival Presents the Best of Oklahoma's Short Films
Goddard Art Center
401 1st Avenue SW, Ardmore
Enjoy some the best of Oklahoma-made short films screened during the deadCENTER Film Festival, featuring a variety of voices and talents from areas across our state. Cities represented include Tulsa, Norman, Altus, Stillwater, McAlester and Oklahoma City. From touching documentaries to hilarious narratives, the program has something for everyone. The screening is free and open to the public.

Wednesday, October 23, 2013
7:30 a.m. - 5:00 p.m.
Registration Open
Ardmore Conference Center
9:45 a.m. - 11:15 a.m.
Redefining Public Art
Presenter: Ris? Wilson
Though socially-engaged art is not new, the conversation about artists who apply a "social practice" has become newly invigorated. This session will unpack some of the terms (like social practice, community engaged art, community based art, etc.) and connect them to a more process- and people-driven definition of public art. Highlighting how process-oriented, neighborhood-based projects shift the notion of public art from the conventional approaches of placing objects in public space to a more dynamic opportunity for artists to serve as civic leaders, examples of artists working in this fashion will be offered ? from Watts House Project in Los Angeles to Asian Arts Initiative in Philadelphia.

9:45 a.m. - 11:15 a.m.
What Works: What Do Artists and Entrepreneurs Have in Common? Everything!
Presenter: Diane Scott
Artists, just like traditional small business owners, have to wear many hats - creator, fabricator, accountant, marketer, technologist, and more. And, just like traditional small business owners, artists can find this to be a daunting task. How do some artists make the leap to sustainable and profitable artistic practices? Through their work with over 400 artists (from musicians, to writers, to painters, to filmmakers), the Artist INC team has identified the common behaviors of successful artist entrepreneurs. In the What Works presentation we will share those behaviors and leave you ready to apply them to your own art practice.
9:45 a.m. - 11:15 a.m.
Is Your Organization Financially Healthy?
Presenter: Diane Mataraza
So how's the financial health of your organization?? If you look carefully at your balance sheet and financial statements, what percentage of your annual income is earned??Contributed? Is your contributor base diverse and broad enough to achieve the organizational long-term plans you envision? Are you too reliant on a small group of contributors? Are you doing everything possible to optimize "sales?" Do you operate from year to year without a plan to shore up reserves??What are your organization's greatest sources of revenue and what are your plans to sustain and grow them over the next few years???Who is responsible??This session will aim to help you think differently and more strategically about revenue streams and your organization's financial healt.
9:45 a.m. to 11:15 a.m.
The Oklahoma Arts & Cultural District Program
Presenters: Joshua Lunsford, Ron Frantz and Georgia Williams
In January 2013, the Oklahoma Arts Council launched the Cultural District Initiative as an effort to assist communities to further develop and certify their cultural arts districts. Presenters will discuss roles and responsibilities of the Oklahoma Arts Council and how the selected host communities can prepare for the certification process. The results from a recent statewide survey on existing arts and cultural districts will be revealed.
11:30 a.m. - 1:00 p.m.
Luncheon and General Session
1:15 p.m. - 2:45 p.m.
Building More Productive Boards
Presenter: Diane Mataraza
Does it seem harder today than ever to attract, recruit, and get the most from your board members? That?s because it is harder than ever before!?In this session we will explore the current challenges of and solutions for building and maintaining the ideal board you would love to have. Nuts and bolts of cultivation, recruitment, and orientation will be shared.?As important, we?ll explore board building and managing.?We?ll share strategies to help you create a stronger board culture better contributing to your organization?s overall goals.? Whether you are an all-volunteer or larger, fully staffed organization, cross cutting lessons and principles will be valuable.
1:15 p.m. to 2:45 p.m.
Creating Sacred Spaces: The Relationship Between Artist and Place in Oklahoma
Moderator: Debby Williams
Panelists: Jes?s Moroles and Joanna Underwood
Public art is a powerful and integral tool that enables a civic connection to a place through common references to history, folklore, culture and geography. Site specific public art brings attention to a place by emphasizing its specialness and translating it into a tangible, approachable work of art creating a place that will endure. Place making is an important benefit of public art but there are many other benefits as well such as economic development and increased tourism. In this session, Underwood and Moroles will discuss their personal journeys as public artists. For artists who are interested in exploring the possibilities of entering the public art sector, this session will be an opportunity for you to learn how these two artists, each in their own unique way, started and continue as public artists.
1:15 p.m. - 2:45 p.m.
Portfolio Careers: A How-to Workshop for Creating Sustainable Artist Careers
Presenter: Diane Scott
What is a portfolio career? How do you build one? And why should artists care? The process of curating a synergistic set of income sources (a portfolio) is common among artists with long-term, financially sustainable careers. Through their work with over 400 artists (from musicians, to writers, to painters, to filmmakers), the Artist INC team has found many inspiring examples of artist portfolio careers in action. In this how-to workshop we?ll share examples of artists from multiple different disciplines and how they have created their own successful portfolio careers, and provide participants with the ideas and tools to begin to develop their own.
1:15 p.m. to 2:45 p.m.
Next in Line: Leadership Transition and Developing New Audiences for the Arts (Recommended for Oklahoma's New and Emerging Arts Leaders)
Presenter: Quraysh Ali Lansana
Philanthropy and higher education are generally reactive instead of pro-active. How do young artists and arts leaders continue to innovate in the midst of more established artists and organizational philosophies that are often slow to change? Is it more beneficial to take on an increased role in an existing organization or build a new organization? This interactive workshop and conversation will explore strategies to address not only the importance of emerging arts leaders but non-traditional modes of building and sustaining new audiences for all artistic disciplines.
1:15 p.m.
Oklahoma Performing Arts Presenters Unite!
Come meet performing arts presenter peers at the Oklahoma Presenters Network business meeting. A brief introduction to the organization will be followed by an open business meeting. Topics of discussion will include 2014-2018 strategic planning goals and objectives, and 2014-2015 and 2015-2016 collaborative booking partnerships (block-booking) initiatives. Members of OPN invite Oklahoma performing arts presenters who are not currently part of the network to attend.
2:45 p.m. - 3:15 p.m.
Break
3:15 p.m. - 4:45 p.m.
The Laundromat Project
Presenter: Ris? Wilson
Utilizing The Laundromat Project as a case-study, Wilson will highlight the value of applying "hyper-local" strategies as a means for building community. Wilson will discuss the role of the artist in the process as well as the professional development necessary for artists who choose to apply their creative practices towards social outcomes.?Wilson will discuss how her personal vision and work as an artist lead her to the creation and formation of The Laundromat Project.
3:15 p.m. - 4:45 p.m.
The Innovation Station Idea Exchange
The Innovation Station Idea Exchange provides a lively forum where artists, arts and community leaders and others can present brief, two-minute descriptions of new works in process, ideas for new projects or artistic community-based collaborations. The Idea Exchange can be used as a "show and tell" for the innovative things happening in your community or studio, or you can talk about arts programs you've seen outside Oklahoma you think should happen here. This session is a great opportunity for networking and collaboration. Participants will have the option to sign up before the session to present their ideas - feel free to get creative with your presentation!
3:15 p.m. to 4:45 p.m.
Small Steps for Making Your Programs More Accessible, Inclusive and Welcoming
Presenter: Renee Boone
Considering the fact that 20 percent of our population has some type of disability, many of us could do a better job of increasing accessibility to our community-based arts programs. This interactive workshop will help arts leaders identify and eliminate physical and cultural barriers and develop creative partnerships to reach new audiences. Participants will discuss innovative approaches for creating inclusive programs and examine real world examples where accessibility was increased through creative problem-solving.
3:15 p.m. to 4:45 p.m.
Advocacy Session
Presenters: Dan Beirute, Jennifer James, and Jerrod Shouse
Oklahomans for the Arts will host a fun and informative roundtable discussion on Arts Advocacy. Anyone interested in learning more about how to increase support for arts funding should attend. Harvard Law grad Attorney Dan Beirute, Tulsa, will manage the table discussion on Lobbying for Nonprofit Arts Organizations; Oklahoma Lobbyist Jerrod Shouse, Norman, will lead the roundtable discussion on Connecting with Legislators and Jennifer James, Executive Director, Oklahomans for the Arts, will lead a roundtable on Digital Advocacy. This is session is designed as an interactive, up close and personal conversation about three issues that get to the heart of advocacy. It is not a panel session. Rather, groups will move in unison from table-to-table interacting with the hands-on moderator. Each roundtable will last approximately 25 minutes for a total session time of 90 minutes.
5:00 p.m. - 7:00 p.m.
Evening Reception at the Goddard Center

7:00 p.m.
Dinner on your own in downtown Ardmore
8:00 p.m.
Cafe Kzany
Ardmore Train Depot

Thursday, October 24, 2013
7:30 a.m. - 5:00 p.m.
Registration Open
Ardmore Conference Center
8:30 a.m. - 9:30 a.m.
Networking Breakfast
Start out the day networking with your peers in the Oklahoma arts industry. Continental breakfast will be provided for conference attendees.
9:45 a.m. - 11:15 a.m.
Creative Entrepreneurship 101: A Workshop for Artists
Presenter: Ris? Wilson
This workshop is designed with independent artists in mind but can be of interest to anyone interested in launching or supporting a creative venture. Many artists who seek to bring about some form of positive social change through their artistic work are not sure when to apply traditional strategies of entrepreneurship (often tailored to a small business, for-profit community), when to apply planning processes from their artistic training, and when to apply theories of social change. This session is an opportunity to bring all of those concepts together. Whether they already have an idea for a venture or they are still wrestling with what project to launch, this workshop will lead participants through a process for charting who they intend to reach, how, by when, and with what resources. The more clearly folks can articulate their vision for change and how their artistic work comes to bear on bringing that change into being, the more successfully they can attract the resources they need .
9:45 a.m. - 11:15 a.m.
Nonprofit Organizational Leadership in 2015.? What Strengths Do I Have??What Strengths Do I Need?
Presenter: Diane Mataraza
Running a successful NPO today is no place for the faint of heart. It requires the ability to continually foresee and assess challenge and opportunity while simultaneously managing sixty-eleven other things.?If we were to measure the overall productivity of those in your charge, is their collective performance greater than the sum of the individual parts? Is your organization's community value as high as it could be?? Is your organization's efficiency as good as it can be? Is staff productivity high? Are annual goals consistently achieved??Is staff morale high? If so, why? If not, why not?? This session will take you on a contemplative journey to assess your capacity as a leader.?It will provide you with reinforcement about all you are doing right.?It will provide tips and pointers how you might do things "more right."?You will leave the session with a confidential self ? assessment plus a few ideas to explore and pursue when you return home.????
9:45 a.m. - 11:15 a.m.
Engagement + Culture = More Money: How to Market your Small Town UP the Value Ladder
Presenter: Becky McCray
How do you take the art and culture of your small town from being a commodity, just another small town, to being a memorable experience? Visitors today don't want to just look. They want to get their hands dirty, learn by doing, and be part of the experience. And if you can make it part of a larger cause like preserving rural culture, well, that's something they'll pay extra for. It's all part of the progression of engagement. We'll work our way up the ladder together in an interactive session.
Chickasaw Art: A Vital Part of Community Life
9:45 a.m. to 11:15 p.m.
Panelists: Jeanie Barbour, Laura Stewart, Brent Greenwood
For generations, the arts have been a vital factor in preserving the
Chickasaw culture, history and traditions. Through community
development, outreach and education programs, the Chickasaw Nation is
providing a higher standard of living for many people throughout
Oklahoma. Panelists will discuss how the Chickasaw Nation's arts
programming is inherent for a healthy quality of life and a prosperous
and bright future
11:30 a.m. - 1:00 p.m.
Luncheon and General Session - Homegrown Culture
Amber Sharples, Executive Director, Oklahoma Arts Council
Jennifer James, Executive Director, Oklahomans for the Arts
Leadership Arts Class of 2013 Graduation

1:15 p.m. - 2:45 p.m.
Building a Better Community, Block by Block
Presenters: Allison Barta Bailey and Kristen Vails
How do you build a better block? Better Block is a community revitalization project that temporarily demonstrates how to improve a block with pedestrian amenities mixed with art, culture, pop-up businesses and street life. In this session, attendees will learn basic concepts for grassroots development and installations in their community by participating in a lightning round Better Block-style simulation. We'll be focusing on lighter, quicker and cheaper methods of improving your community.
1:15 p.m. to 2:45 p.m.
A Primer for Teaching Artists
Presenter: Quraysh Ali Lansana
Creating art is a courageous act that validates and claims ownership of one's thoughts and beliefs. This bearing witness of self can happen in the park, the jail unit, the school library, on the playground, or in the basement of any house of worship. Teaching artists possess the joyous, often arduous task of sharing their craft, managing a classroom and harmoniously working with teachers and school administrators. Participants in this workshop will learn, explore and share concepts on the business and practice of teaching artistry in classroom, school and community.
1:15 p.m. to 2:45 p.m.
At the End of the Day, Are We Making a Difference? Oklahoma Visual Arts Coalition Experience with Outcome Evaluation
Presenters: Julia Kirt, Kelsey Karper and Denise Caudill
Nonprofit organizations today face many challenges including increased demand for accountability and results, greater competition for funding, and growing needs for services. Oklahoma Visual Arts Coalition tackled these challenges by plunging into the new world of outcome measurement. Using our experience as a case study, you?ll learn about the development and implementation of outcome evaluation strategies to track the results of your programs and how to use those results to improve fundraising, public outreach and program design.
1:15 p.m. to 2:45 p.m.
Handmade in Oklahoma
Panelists: Sara Cowan, Emily Kern, Margaret Roach Wheeler and Doug Zook
Throughout history, the handmade objects and the artists that create them have been essential factors in sustaining our cultural heritage and traditions. Now more than ever, the craft industry plays an integral role in our local economies and our connection to natural resources and community. With the recent resurgence of the DYI and "buy local" movements, there is new enthusiasm and support for the handmade object, quality design and functional art. This session will highlight Oklahoma's craft industry and how it impacts the economy, educational opportunities and quality of life in communities both small and large.

1:15 p.m. - 2:45 p.m.
Downtown Historic Tour with Tom Walker
Join Ardmore host and historian Judge Tom Walker as he leads you on a fascinating tour of downtown Ardmore via trolley. The tour includes stops at historically significant sites, and the emphasis is on the unusual, unique or inaugural events that took place in Ardmore prior to the Great Depression. From the first public high school in Oklahoma to shady characters and outlaws, this tour includes captivating tales of what was established as a lively town in the Wild West. This tour is limited to 22 passengers. Sign up at the Registration tables.
2:45 p.m. - 3:15 p.m.
Break
3:15 p.m. - 4:45 p.m.
Increasing Community Engagement and Relevance
Presenter: Diane Mataraza
Are you satisfied with your organization?s market share??If not, this will be a helpful session for you.?With increasing choices and opportunities for members of our community to consume and participate in creative activities, this session will help you identify new ways to build demand for your organization?s offerings, expand audiences, and grow your user base.?What are effective strategies? What will implementation require? Who in your organization should own this responsibility? We will explore practical, manageable pathways helping you increase your organization?s relevance and reach across your community.
3:15 p.m. - 4:45 p.m.
Like! Social Media Champions Multiply Your Reach. How to Find Them for Small Towns
Presenter: Becky McCray
You could use all the help you can get spreading the word about your events online. Find out how to connect with your small town's developing network of champions online, how to get them interested in arts events, and how to help them help you. In this interactive session, we'll build your plan together. This concept is immediately useful for the small town community developers and arts administrators who promote community events. Artists can also use it to promote any events they participate in. Urban attendees can use the concepts by treating a smaller neighborhood or district as their small town.
3:15 p.m. to 4:45 p.m.
Reading, Writing, Arithmetic?.ARTS! How the Arts Are Transforming Ardmore's Public Schools
Panelists: Pauline Bustamante, Cynthia Bell, Melissa Fairmaner, Kelly Franks and Robin Spriggs
How, in three short years, did Jefferson Elementary School in Ardmore go from the lowest scoring school in the district to being recognized by the State Board of Education as an Oklahoma Reward School? In April 2012, the school was recognized for ranking in the top 10% of schools in the state that made the highest progress in testing scores. Through a unique collaboration between artist Pauline Bustamante, a non-profit arts center, a supportive school administration and the Ardmore community, the arts are transforming students in southern Oklahoma. Whether you are an artist, a parent, a community volunteer or an educator, this session will provide you with insight on how you can make a difference in your local school community.
3:15 p.m. to 4:45 p.m.
Tips for Success: A Guide for Writing and Submitting Oklahoma Arts Council Grants
Presenters: Joshua Lunsford and Meleia Williamson
Whether you are first learning about the Oklahoma Arts Council grants or if you would like to improve your existing grant applications, this session will provide you with helpful tips for creating and submitting a high-quality grant application. Co-facilitated by the Oklahoma Arts Council's Grants Director and the Community Arts Director, this session is recommended for representatives of nonprofit organizations, libraries, K-12 schools, universities or colleges, and city, county, or tribal governments. Staff, administrators, grant managers and makers, consultants and board members of arts organizations are also welcome. Participants will get a better understanding of what types of art programs the Oklahoma Arts Council can support and how grants impact communities across the state.
4:45 p.m. - 6:00 p.m.
Heartland Flyer train passengers will be provided with transportation from the Ardmore Convention Center to the Ardmore Train Depot. ?Passengers will have time to enjoy dinner at local restaurants in proximity of the depot prior to departure.
7:30 p.m.
Heartland Flyer passengers depart Ardmore.
Questions?
For more information email us at conference@arts.ok.gov.