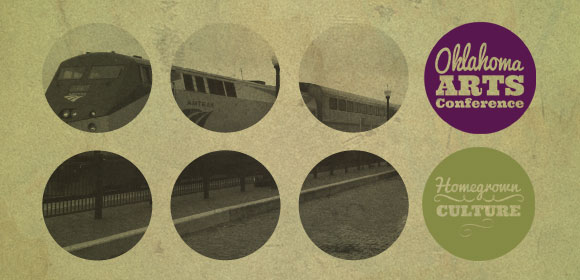 Amtrak's Heartland Flyer Train
Destination Ardmore!
Travel to the Oklahoma Arts Conference via the Heartland Flyer!
For the first time ever?Oklahoma Arts Conference attendees can travel by train to the conference! Conference participants can board the train at depots in Oklahoma City, Norman, Purcell or Pauls Valley. Electronic tickets will be issued and you can use the convenience of your smartphone to board the train. In order to ensure your arrival for the full conference, it is recommended passengers plan to arrive in Ardmore on October 22 and depart October 24.
For arrival to the Oklahoma Arts Conference, the Heartland Flyer 821 will pick up passengers in the following station locations at the scheduled departure times: Oklahoma City, Norman, Purcell and Pauls Valley. Passengers will arrive at the Ardmore station at 10:30 a.m.

For departure from the Oklahoma Arts Conference, Heartland Flyer 822 passengers will depart from the Ardmore station at 7:30 p.m. Tentative arrival times for various station destinations are also found on the schedule time tables.
Ground Transportation
Bus or trolley transportation will be available to conference attendees arriving on the Heartland Flyer to their hotels, downtown eateries and selected local activities in Ardmore.

Attendees participating in the pre-conference Chickasaw Cultural Tour on October 22 will be picked up at the Ardmore Depot for the tour.

Conference attendees will also be provided transportation back to the Ardmore Depot to depart at 7:30 p.m. on October 24.
Parking

Parking is available for no cost at the Norman, Purcell and Pauls Valley Stations.?Parking at or near the Oklahoma City depot is approximately $10 per day.?Limited parking is available at the Oklahoma City train depot.?The Santa Fe Parking Garage is in close proximity of the train station. Click here for Santa Fe Parking Garage information.
To book your reservation, visit http://www.amtrak.com/home or call 1-800-USA RAIL.
It is recommended that train passengers book hotels at the designated conference hotels to ensure adequate ground transportation during the conference.
Train reservations will be limited to a first-come, first-served basis, and the Oklahoma Arts Council is not responsible for discrepancies or issues with the Heartland Flyer or Amtrak.
Questions?
For more information email us conference@arts.ok.gov.