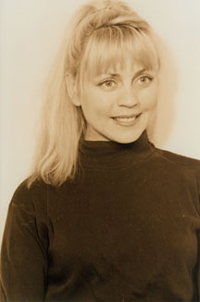 Contact Information:
Tonya Kilburn
4504 Rabbit Run
Edmond, OK 73034
Phone:
(405) 760-8591

Email:
Discipline:
Dance
Participants:
Childhood, adolescents, adults
Settings:
Elementary and middle school, senior centers
Availability:
OKC Metro, year-round
Bio:
Tonya Kilburn is a refreshing and experienced dancer and dance instructor. She holds a Bachelor of Fine Arts from the University of Oklahoma. Her spirited residencies involve creative movement and basic modern dance techniques. Participants will become more aware of their bodies and how they move through space and connect to their environment. Time, space energy, shape and rhythm will be explored through dance that may include folk, social, theatre jazz or improvisation. As a result, children become more comfortable with their bodies and expressing their ideas.
Learning Goals:

Learn basic elements of dance
Develop an appreciation for dance as art
Strengthen patterning and sequencing skills
Build teamwork and cooperation skills through dance