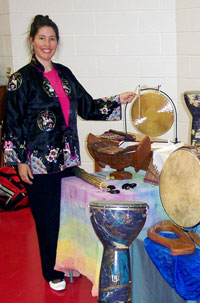 Contact Information:
Kay Lynn Sarkey
1315 Locust Lane
Edmond, OK 73013
Phone:
(405) 844-2490
Email:
Website:
Discipline:
Dance - Music
Participants:
Early Childhood, Childhood, Adolescents, Elders and Special Needs
Settings:
Pre-school through high school, libraries, community events
Availability:
Statewide, Year-round
Bio:
Kay Lynn Sarkey, a versatile and experienced creative movement instructor, dances, sings, plays piano, guitar and a variety of musical instruments from around the world. As a song writer, she brings her original music, compositions and recordings as an added inspiration. Her delightful residencies support and deepen the student's appreciation for the arts themselves and other curricular areas. She uses music, storytelling, poetry and song to encourage the artistic experience through imagination and creative expression.
Learning Goals:

Develop dexterity, balance, coordination and motor skills at the appropriate levels
Build awareness of one's body in space through a variety of basic movement forms
Develop listening skills, communication and self-expression
Encourage grace and dignity, manners, courtesy and respect, self-worth and teamwork
Keep alive the heritage of and appreciation for cultural music, stories and folk dance
Provide teachers with resources to incorporate dance into Core Knowledge units
To see that the arts continue to be an important and satisfying part of the children's education and lifestyle