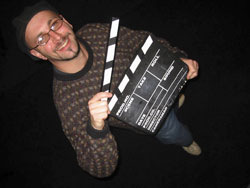 Contact Information:
Geoffrey L. Smith
P.O. Box 2453
Norman, OK 73070
Phone:
(405) 210-3953
Email:
Website:
Discipline:
Media Arts and video production
Participants:
Adolescents, adults, youth at risk, special needs, seniors
Settings:
Schools: elementary, middle, high, alternative ed
Community Sites: art centers, libraries, parks, senior and recreation centers
Availability:
Statewide, Year-round
Bio:
Geoffrey L. Smith, an innovative media artist, has a Bachelor of Fine Arts in Media Arts from the University of Oklahoma. He works and creates in all areas of the television and film industry and teaches video production at the Oklahoma City Museum of Art. He serves as chair of the film and video program for Individual Artist of Oklahoma and works in the sports media industry as well as producing and directing his own video productions. Geoffrey's residencies introduce participants to pre-production, production and post-production of a video project, including scripting, basic camera set-up, composition and shooting techniques. If editing software is available at the site, participants learn how to input and edit video clips. By the end of the residency, the future filmmakers will have a better understanding of the process of producing a video.
Learning Goals:

Learn basic video production vocabulary
Practice storytelling through video
Develop observation skills through visual language
Experience roles of cameraman and talent
Strengthen teamwork skills through video production