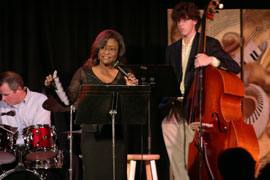 Contact Information:
Deborah J. Hunter

Phone:
(918) 402-7510

Email:
Website:
Discipline:
Creative Writing
Participants:
Adults, Adolescents, Childhood
Settings:
Schools: pre-k, elementary, middle, high, special ed, alternative ed
Community Sites: art centers, libraries, parks and recreation centers
Availability:
Tulsa Metro area, weekdays, summer
Bio:
Deborah J. Hunter, poet, spoken word artist and actor, is a native Tulsan and was the recipient of the 2000 Jingle Feldman Artist Award. She has attended University of Tulsa and University of Oklahoma College of Liberal Arts and has won local poetry slams. Her essays and poems have been published in Nimrod, Curbside Review and Another Sun in the United Kingdom. Through writing exercises and the creative process, participants working with Deborah will come to understand the difference between poetry and stream of consciousness writing. She will focus on such literary elements as voice, rhythm, imagery and the poetic use of language and form. Participants will use their imaginations, experiences and the world around them as sources of inspiration for self-expression.
Learning Goals:

Learn the styles and forms of poetry
Understand different themes for poetry
Experience the creative writing process
Develop stage presence and delivery.