Perpetual Motion
Modern Dance Oklahoma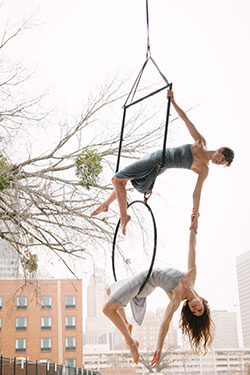 Booking Information:
Michelle Dexter
P.O. Box 1916
Oklahoma City, OK 73101
Phone:
(405) 206-2843

Email:
Website:
Availability:
Year round

Fees:
Full length concert (Not to exceed 2 hours) - $3000-$5000
Performance Appearance (15-30 min) - $1000-$2000
One Week Workshop - $1500 - $2000
Master Class (1 1/2 hours) - $75 per class plus travel
Performing Arts Corps fee (only available to elementary schools): $375
Bio:
Perpetual Motion is an Oklahoma City based non-profit modern and aerial dance company. Founded in 2002, the company has since grown to become the premier modern dance company in Oklahoma. Perpetual Motion was recently featured on OETA's "Gallery" and described as, "seven young women who dared to dream that they could create a following for their dynamic dances that herald the strength, fragility and camaraderie of the human experience." The addition of aerial dance to their repertory has added new dimensions to their work that are daring and surprising. As Aharen Richardson of NONzine described, "The dancers' energy and presence fill the entire room as they take turns wrapping the fabric around their bodies and bending in impossible ways." In addition to producing and performing in two annual concerts, Perpetual Motion performs throughout Oklahoma in events such as the New Genre Festival, Momentum, and the Oklahoma City Festival of the Arts. Janice Francis-Smith at the Journal Record described the Perpetual Motion performance at the 2007 Momentum as, "an unusual, ethereal dance using swings suspended from the ceiling - was considered one of the highlights of the show." Perpetual Motion also tours to local schools for lecture demonstrations in modern dance. The company was proud to have been a part of the '06 and '07 Putnam City "Dancewise" Project where they performed for several Putnam City middle and high schools.