Nick Bayer
Circumference
Governor's Gallery - April 18 - June 19, 2016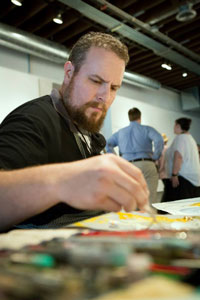 Utilizing a variety of surfaces and materials, Nick Bayer's constructed paintings physically engage with space – walking the line between two- and three-dimensional art. Inspired by the pop-up books of his childhood, Bayer aims to engage the viewer's interest through sense of place and nostalgia. Standing apart from the wall, his works beckon the viewer to take a closer look – never letting the materials obscure the concept, but rather pushing it forward.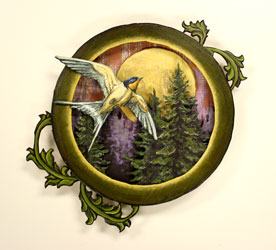 Constructed paintings, much like three-dimensional collages, include several individual painted components, cut out and assembled to become one unified composition or scene. For his substrate, Bayer often uses found objects and rustic, old wood. Furthering the sense of nostalgia, these materials bring their own histories to each piece.
"My sentimental recollections drive the creative urge to produce work," Bayer explains in his artist statement. "The ideas for my paintings are born out of nostalgia. I explore the relationships between past and present, how meaning is discovered through the combination of text, image, color, painted form, and juxtaposition. The contradictions and polarities I experience, both in the day-to-day and in the process of creating, help generate ideas as well as questions."
Bayer sees his constructed paintings as diagrams containing multiple narratives. This allows the viewer to develop a variety of interpretations through their interaction with the work. "I am interested in the way different images and ideas relate to or contrast one another," Bayer says. "It's a conversation between abstraction and realism, symbolism and sentimentality." In Circumference, Bayer takes relatively common American experiences and places and positions them in unexpected environments, eliminating the sense of place associated with common memories.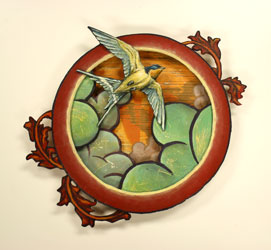 Bayer earned his BFA and M.Ed. from the University of Central Oklahoma and his MFA from Kansas State University. He is currently the Creative Director at Taylor Foam as well as an active practitioner in the arts. In addition to his personal portfolio, Bayer has developed an impressive catalog of public murals throughout the state of Oklahoma in towns large and small.
Bayer's unique constructions belong to many public and private collections across the United States. Recent solo exhibitions include Full Circle at JRB Art at the Elms (Oklahoma City), Americana at Taylor's Contemporanea Fine Arts (Hot Springs, Arkansas), and Constructed Painting at Fort Worth Community Arts Center (Fort Worth, Texas).