Mary Nickell
Full Circle
Governor's Gallery - February 8 - April 10, 2016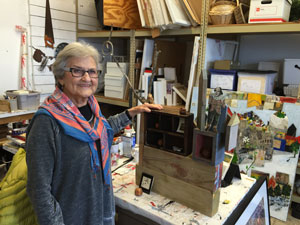 In her artwork, artist Mary Nickell utilizes an array of media, including oil stick, acrylic paint, and found and discarded objects. Her artwork is spontaneous – moving from figurative painting, to collage, to nonrepresentational abstract compositions as the moods strike her. However, all of her work is created with a consistent goal, "To reject the trite and create work that challenges me," says Nickell.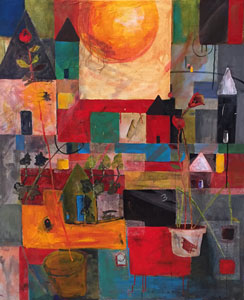 "Use of color, line, and texture present a mood, and images appear after many layers of paint and materials. I don't intentionally begin with a subject but sometimes conclude with a semblance of past experiences, memorable places, or fantasies," Nickell explains. "A beginning of a new piece may begin with a line or brushstroke. My aim is to build a composition that pleases the eye."
By looking at Nickell's portfolio of artwork created over the last 30 years, the viewer is invited to get to know the artist. Her soul is bared through her art. A painting of her kitchen in mid-redecoration includes scraps of the old wallpaper as if it is a modest invitation into her home. The shapes and colors of "Dark Day" shares how she felt on the day of the Oklahoma City bombing in 1995. As a diary of her past thoughts, Nickell's artwork has recorded who she is.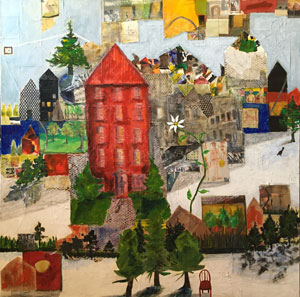 "Art enriches my life," says Nickell. "It is a way of communication without audibly speaking. I like to continue on any art piece until it resonates and identifies me – until it has a life and a soul."
Born in Wanette, Oklahoma, Nickell spent her younger years on her grandparents' farm. She was first introduced to art during elementary school and developed a growing interest. She graduated from Oklahoma Baptist University with a degree in Home Economics before settling in Midwest City with her husband to raise her family. Once the children were grown, Nickell decided it was time to revisit her interest in art.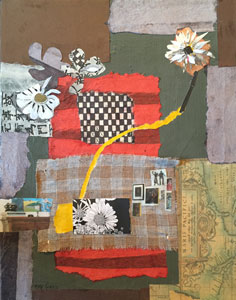 Nickell began painting at home at the age of 50. She enrolled in group workshops to develop her technique in realism. After a few years, she began to feel confined by realism and began exploring with abstract and mixed media workshops. It was during a workshop in South Carolina that an instructor finally asked her, "What are you so afraid of?" She accepted his challenge and began painting what she felt. Her emotional and explorative mixed media abstracts have been evolving ever since.
In 1994, Nickell and a group of five other artists established Studio Six in Oklahoma City's historic Paseo Arts District. Her award winning artwork has been included in many local and national exhibitions as well as private collections throughout the country.
Nickell maintains her art practice by working at the studio about four days a week. She has recently added music to her practice through piano lessons taught by Louise Goldberg of the local music group Miss Brown to You. When not creating art or practicing piano, Nickell can be found traveling the country with her recently retired husband, Maurice.