Jenny Perry
Sticks and Stones and Glass and Bones
Governor's Gallery - May 4 - July 5, 2015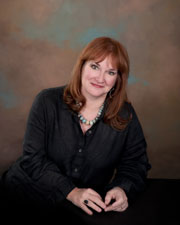 Mosaic is the art of creating images with an assemblage of small pieces of colored glass, stone, or other materials. Most mosaics are made of small, flat, roughly square, pieces of stone or glass of different colors, known as tesserae. For thousands of years, mosaics have been part of interior spaces. Their start can be traced back millennia to man's simple arrangements of pebbles into patterns, describing a direction or message. The techniques gradually developed through history from decorative floor and wall surfaces in villas and cathedrals to the modern expression of mosaics as art.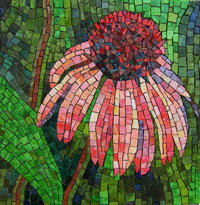 From her studio on Main Street in downtown Frederick, Oklahoma, Jenny Perry creates contemporary mosaics using a variety of tesserae including smalti (hand-cut, richly-colored, opaque glass tiles), unglazed porcelain, stones, marble, beads, and found objects. To cut the rigid materials, she uses a wheeled glass cutter or a hammer and hardie (an Italian tool for mosaic creation). "The art of mosaic is very labor intensive," explains Perry. "Many hours of work go into each piece."
For composition, sometimes Perry sketches out a plan, and sometimes she allows the image to emerge during creation. Adamento is the visual flow and direction within a mosaic produced by the placement of rows of tesserae. "I think a lot about which pieces to put where and how to make the piece flow," says Perry. She adheres the tesserae to a substrate with thinset mortar, a blend of cement, very finely graded sand, and a water retention compound.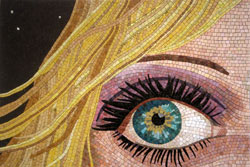 Of her artwork, Perry says, "Mosaics give me a sense of peace. They please not only the eye, but the soul. I love the way the inside of a chunk of marble looks when it's cleaved in half and the way the surface of a mosaic seems to change depending on the light." Growing up in California, the ocean has always been an inspiration to Perry.

Now living in landlocked Oklahoma, adapting has kept her productive and inspired. "Scouring the flotsam and jetsam of Southwest Oklahoma country roads and fields yields a treasure trove of glass, vintage china, buttons, shotgun shells, and rusty pieces of history. I find solace in taking these seemingly irretrievably broken objects and giving them new, beautiful life in my art."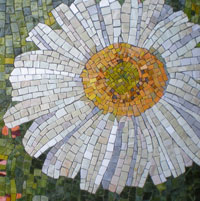 Perry had her first experience with mosaics in 2001. Joining the Society of American Mosaic Artists in 2003 opened up a new world of inspiration and learning opportunities. In 2007, she traveled to Italy where she earned her Master in Mosaico certificate at the 19th century Orsoni glass foundry in Venice. In 2009, Perry studied color theory and realism at the Perdomo School of Mosaic in Cuernavaca, Mexico.
Perry's mosaics are included in private and public collections all over the United States and in Canada, England, Italy, and New Zealand. In addition, her art has been featured in local, national, and international exhibitions at institutions such as Chicago Mosaic School, the Corinium Museum (Cirencester, England), Bathhouse Cultural Center (Dallas, Texas), Atelier Gallery (Miami, Florida), Eleven-Eleven Gallery (Washington, D.C.), and Walters Cultural Center (Hillsboro, Oregon).