Skip Thompson
From Within
Governor's Gallery - February 3 - March 30, 2014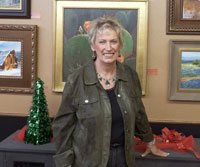 Artist Skip Thompson lives in the Arbuckle Mountain area of Southern Oklahoma and has been painting since 1980. She originally turned to painting as a form of relaxation during time off from her stressful job as a registered nurse. However, art quickly became her passion, and it wasn't long before it became her full-time career focus as well.
Among the teachers Thompson studied with to refine her painting technique were Richard Goetz, Carolyn Anderson, Ann Templeton, Ziang Zhang, Kim English, Gay Faulkenberry, Kaye Franklin, Kathryn Stats, Dan Gerhartz, and others. Through study and practice, she has since retired from the medical field and become a devoted artist with a successful career.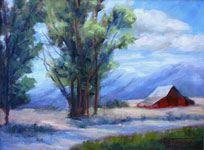 Thompson believes that art is not simply a matter of putting color or design on canvas. To her, it is an expression of which creates a mood and awakens a viewer's senses. She believes that every artist strives to have the viewer experience an emotion when viewing their work. Of her inspiration, Thompson says, "I am often in awe of the colors in an Oklahoma sunset, and I love to watch light filtering through a window, literally penetrating an object in its path. I then set out to capture that certain element which initially intrigued me so that I can pass the experience on to the viewer. Hopefully, my art uses color and canvas to bring feelings to life. There are a million and one reasons why I continue to paint, but it's mainly because art is my 'soul food'...it nourishes my soul."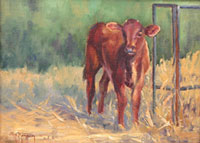 Of her process, Thompson explains that she most often paints in oils on stretched canvas or hardwood canvas board. She begins her paintings on a toned canvas before sketching in her design and blocking in dark masses. From there, she works from dark to light, adding white to her colors to build up value and tone.
"I like a lot of contrast in my paintings, including value, texture, lines, temperature, detail, and brushstrokes, and I try to keep most of it as the center of interest."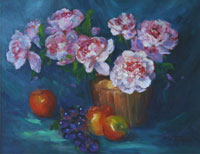 Thompson has won numerous awards and her artwork can be found in galleries and exhibitions in Oklahoma, Texas, Colorado, Wyoming, and Arkansas. Her painting has been featured multiple times in publications such as Western Art Collector, Art of the West, and Oklahoma Today. She is also an active member of such organizations as American Women Artists, Oil Painters of America, Outdoor Painters Society, and many other local art coalitions.
Thompson believes that it is her responsibility to pass on the knowledge that her instructors instilled in her. Therefore, teaching is a priority aside from the artwork she creates. She teaches winter classes in her home studio in Sulphur and has conducted workshops in Oklahoma and Arkansas.