David J. Holland
Thunderheads
Governor's Gallery - December 22, 2014 - February 15, 2015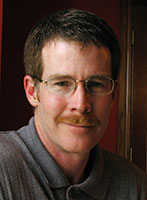 Oklahoma artist David J. Holland is inspired by the dynamic skies of his native state in this exhibition, titled Thunderheads. ?Being from Oklahoma, I have a deep fascination with our weather and for watching our clouds. Weather affects and surrounds each of us. Every Oklahoman has a direct relationship and a necessary deep respect for weather. I share my fascination in paint,? says the artist.
Storms bring rainwater, a vital element for life on Earth and essential for continuing survival. Through Holland?s paintings, people can connect with storms by reveling in their beauty as they complete that life-giving water cycle. Holland?s work captures the essence of storms and clouds at a single point in time at their most dramatic state of development so a viewer can feel the storm and experience the excitement of witnessing its emotional power.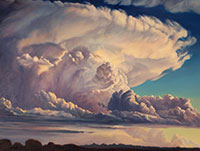 ?Dramatic, isolated thunderheads thrill my senses and compel me to record their power and beauty with my camera then translate the photographs into the permanent language of paint,? Holland explains. ?There are moments when watching a storm go up, I can?t believe what I?m seeing. Each time I watch a thunderstorm growing in the distance I feel exhilaration like I?m seeing one for the first time, each time.?
To create his paintings, Holland starts by keeping a close eye on weather reports so he will know when the conditions are optimum to capture storm images on camera. He often takes up to 100 photos of a storm as it develops. The paintings start with detailed pencil drawings on canvas or board as Holland works out the composition and the proportions of the clouds. Holland says color is one of the most important challenges in painting a cloud. He pulls from the experience of watching the storms to match the colors and mixes between five and fifteen colors of paint before he starts applying them to the canvas.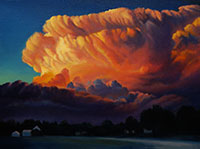 With color washes, Holland blocks in the majority of the canvas, picking out and emphasizing the light and dark areas of the cloud and landscape. Following up with multiple layers of glazes allows him to achieve the subtlety of color and depth of space he wants. In the final stages, he adds finer details and emphasizes colors to deepen the darker areas and enhance the highlights.
Holland says he sees his work as portraits of the clouds. ?I capture a storm?s essence and reveal its character by analyzing and recording the way light bounces off the translucent mix of water and air that we see as clouds, much the same way a portrait artist paints a model by analyzing the light that bounces of a model?s face.?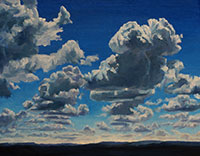 Holland was born in Lawton, Oklahoma, to an Army family. Before graduating from high school, he moved with his family from Oklahoma to Kansas, Japan, Idaho, back to Oklahoma, Maryland, Arkansas and finally back to Oklahoma. He earned his Bachelor of Arts from Oklahoma City University and studied under Brunel Farris and Jack Davis. In 1983, Holland was injured in an accident that caused him to lose his three-dimensional sight, leaving him blind in his left eye.
Holland?s artwork is included in private and public collections in the United States and Europe and is represented by Acosta Strong Fine Art in Oklahoma City and Santa Fe. His work has recently been featured in venues across the Midwest. Holland is an active supporter of Oklahoma artists and is a member of the Oklahoma Visual Arts Coalition, an organization he credits for his pursuit of a career as a professional artist.