Margaret Aycock
Oklahoma, the Place Where I Call Home
Governor's Gallery - July 16 - September 16, 2012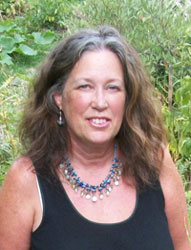 Although she was born in the Catskill Mountains of New York and has lived up and down the eastern coast of the United States, Margaret Aycock settled in Tulsa about 30 years ago where she currently makes her living as an oil painter. She paints in the style of Post-Impressionism, and her work is figurative and painterly in nature.
Aycock has a great appreciation for nature that is evident in her art. The subject matter for much of her art includes landscapes, seascapes, still lifes, portraits, and figures. She is best known for her delicate floral still life paintings and paintings of the Oklahoma landscape. Aycock's painting, Sunset on the Tall Grass Prairie was chosen in 2008 to travel with Paint America's Paint the Parks Exhibition, which is America's leading competition and exhibition to illustrate the beauty and significance of the country's national parks.
For this exhibit, titled Oklahoma, the Place Where I Call Home, Aycock drew inspiration from all over our fair state, from the mountains at Quartz Mountain and the Wichitas to the vast prairie land at the Tall Grass Prairie. When she began the project, Aycock planned to visit the outer reaches of the state, but after her husband suffered a heart attack she stayed closer to home while he recovered. This gave her permission to enjoy the beauty in her own back yard, including the water, flower, and vegetable gardens she has developed on her own. Behind each subject, there is always a story. "The peonies have traveled with us for over 30 years, from house to house, they travel even further back in time to my husband's great grandmother's flower beds," says Aycock. "And, some of the roses were salvaged several years ago from the area where the Tulsa jail now sits."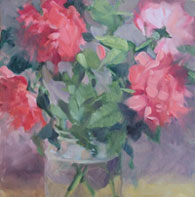 Aycock prefers to paint on site, which often leads to adventure. She sees a dirt road as an invitation to explore and look for inspiration such as the Osage and Tall Grass Prairies. She also spent time exploring the Illinois and Flint Rivers and the Clear Creek at Clear Creek Monastery. But, when painting on site isn't possible, she relies on photographs. "The tornado actually came from a very quick photo taken out the window of the car as we were coming home from Flint Creek," Aycock explains. "We were trying to decide if we should stop or put the pedal to the metal and get out of there. We decided on both."
Aycock explains her process of painting as traditional. "I usually, but not always, begin with toning my canvas with a wash of oil and mineral spirits. I paint in a direct manner without a detailed drawing. I begin very abstractly, blocking in basic shapes and locations, and the rest of the process is spent on refining those shapes." Aycock says she strives to have a painterly style for the finished product, which involves a heavier application of paint towards the final stages of the painting.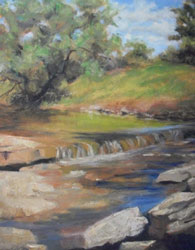 Although Aycock received her Bachelor of Fine Arts from Oral Roberts University, she has continued to refine her technique in oil painting by studying with individual artists in workshops throughout the years. Her artwork can be found in several galleries in Oklahoma and beyond, including the M.A. Doran and Pearl Galleries in Tulsa; ERL Originals and West End Galleries in Winston Salem, North Carolina; Popes Gallery in Charlotte, North Carolina; and Zarks Fine Design Gallery in Eureka Springs, Arkansas. She is an active participant in juried and invitational exhibits throughout Oklahoma and is a recent recipient of Oklahoma Visual Arts Coalition's Creative Projects Grant. In addition to teaching oil painting classes at Tulsa Community College, Gilcrease Museum, and Ziegler Art & Frame in Tulsa, Aycock often participates as a speaker in workshops in the Oklahoma arts community.