Julie Miller
Grasslands & Waterways
Governor's Gallery - February 8 ? April 4, 2010
Sapulpa painter Julie Miller has never wanted to stay within the lines. Her painterly style was born early as a young girl coloring pictures of clowns for her grandmother. While her sister's picture was neat and orderly, Miller's was loose and expressive. After many years of practice and education in the arts, Miller's style is now a fine-tuned and sophisticated version of her original artistic endeavor.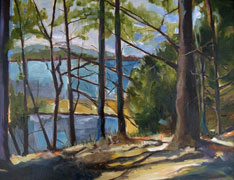 Impressionistic, expressionistic, subtle, abstracted, and exaggerated are all words which have been used to describe Miller's art. To achieve her signature style, Miller utilizes brushwork consisting of careful and deliberate details combined with loose and abandoned strokes. She also uses palette knives to create texture with the oil paint. Miller says, "I am partial to paintings that show the process of brush, knife, paint, and emotion." Miller's sensitive use of color combined with both exciting and restful areas of the composition further elaborate on emotion and keep the viewer interested.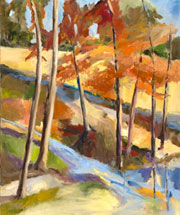 Miller's paintings are often narrative and tell stories of subjects often overlooked in everyday life. Her painting style is representational, so the subject is recognizable, but also abstracted, which adds personality and feeling. Her landscape paintings convey the gentle beauty of nature and subtly invite the viewer to visit and take comfort.
Miller received her Bachelor of Fine Arts from Kansas State University and continued her education studying under artists including Kay Orr, Gary Lennon, Judy McCombs, Rick McClure, Dale Martin, Mitsuno Ishii Reedy, George Kountoupis, and Gail Booth. She is also a noted art instructor and workshop facilitator and credits the process of teaching for enhancing her own creative work. She has taught at Ziegler's Art Studio, Tulsa; Fine Arts Institute, Edmond; Arteries, and Intergenerational Art Workshop, Sapulpa; Lennon Art Studio, Edmond; and Guthrie Art Center. Miller is also involved in arts organizations such as Oklahoma Visual Artists Coalition, Tulsa Artists Coalition, and Tulsa Artists Support Group.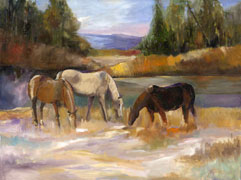 Miller's artworks have been included in eight to ten regional exhibits each year since 1995, including Art on the Square in Tulsa, the Edmond Downtown Arts Festival, and Arts Festival Oklahoma in Oklahoma City. Her work has been featured in solo exhibitions in Tulsa, Sapulpa, Edmond, and Oklahoma City.
In early 2009, Miller partnered with three other Oklahoma artists to open The Water Street Art Gallery in Sapulpa, OK. The gallery hosts fine art exhibits and offers arts classes for students of all ages.